Realistic Pricing Guaranteed
Nationwide Delivery
Secure, Easy Payment
Sale Now On 10% off all Internal Bifold Doors
Frosted Glazed Oak 5 Door 4l Roomfold Grande (5 + 0 X 686mm Doors)
Internal Bifold Doors
On Sale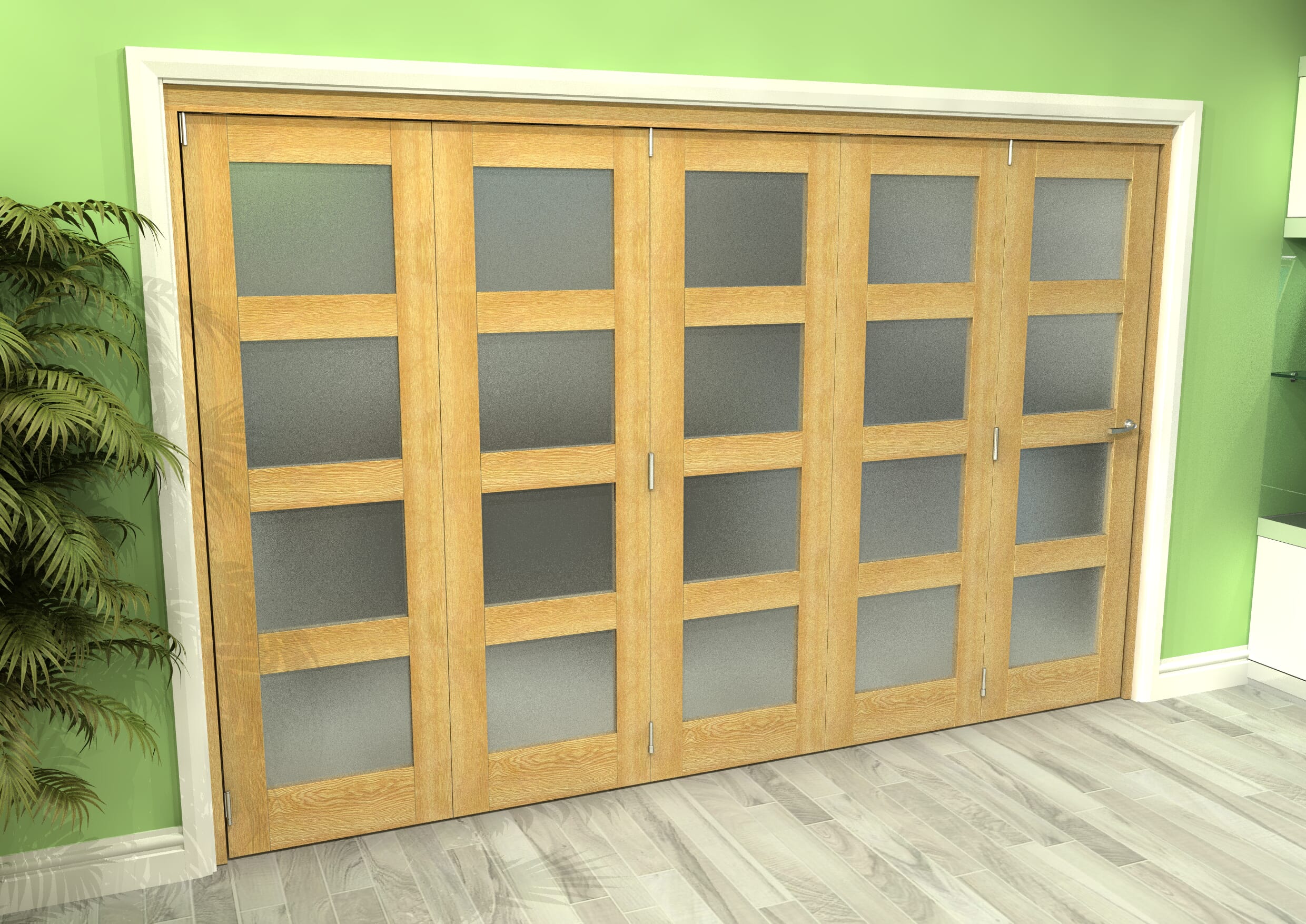 3508 x 2060mm Internal Bifold Doors
Outer Frame Size
2060 x 3508mm (H x W)
£971.10£1,079.00 + Free Delivery
Product Description
Ensuring privacy between rooms with glazed internal folding doors can be a challenge. Our Frosted Glazed Unfinished Oak 4L Roomfold Grande is the perfect choice with 5 + 0 x 686mm wide doors giving an outer frame size of 3508mm x 2060mm high, This Internal Bi Fold Door comes complete with the following items: a) Engineered Unfinished Oak frame pack with loose pin stops, and with a 133mm lining depth. b) 3 x 686mm x 1981mm x 35mm thick Glazed Unfinished Engineered Oak solid core doors, with toughened glass. c) High quality, adjustable Stainless steel running gear and drop bolts, complete with head track. The only items that you may need, but aren't supplied is the architrave, and door handle / latch. These sets are an ideal, robust, and well engineered solution to creating an Internal Bi Fold Door system to meet your needs. These sets can be trimmed in height and width. Please give us a call for advice. These sets are also ideal, where you are fitting them onto / over an existing floor covering - where the gap below the doors can be kept to a minimum. Fitting instructions supplied. Please note all our sets are fully reversible so you can hang the doors folding to the left or right.
Technical Information
If you need installation or care/maintenance advice with our products, please visit our technical information section or call us on 0203 846 0345.
Technical Specification
Brio Interfold 35 Stainless Steel
Reasons to shop
with us
Specialist suppliers of high quality, internal and external folding and french doors at realistic prices.
Nationwide
Delivery
Delivery to most mainland UK postcodes within 3-7 working days. Charges to non UK mainland may apply.
Easy
Payment
Secure online payment processing through Sage Pay, for your peace of mind.