Buy Direct For The Best Price
Free Delivery On All Bifold, Sliding & French Doors
Secure, Easy Payment
Sale Now On 10% off all Internal French Doors
Oak 4 Light Frosted French Door Set 2076mm(w) X 2021mm(h)
Internal French Doors
On Sale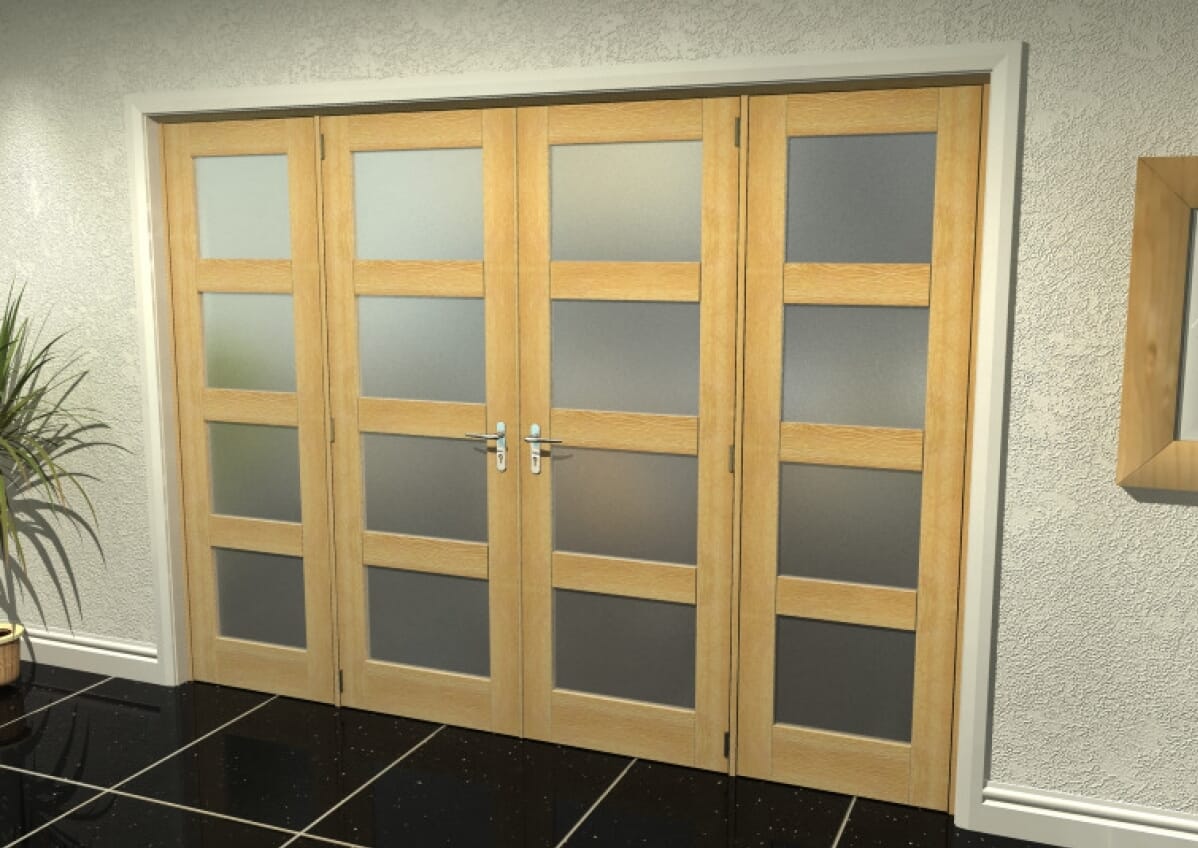 2076 x 2021mm Internal French Doors
Outer Frame Size
2021 x 2076mm (H x W)
Opening Size
2031 x 2086mm
£701.10£779.00 + Free Delivery
Product Description
Your product Specification: This Oak 4 Light Frosted Glazed French Door Set from Climadoor comes in a kit form for assembly on site by someone suitably qualified. The parts included in this set includes:
A. 2 x Unfinished Engineered Oak, Frosted Toughened Glass Doors at 573mm wide per leaf ( 22.5" ).
B. 2 x Unfinished Engineered Oak, Frosted Toughened Glass Side Panels at 419mm wide per panel. (16.5")
C. 1 x Unfinished Universal Oak Frame set 133mm deep.
D. 1 x Unfinished Pair Maker
E. Outer Frame Size 2076mm wide x 2021mm high.
F. This set can be trimmed by 40mm in width and 10mm in height.
The set required assembly on site with the instructions provided. Hardware and Architrave not Included. Door / Side Panels 610mm (24") and under can be trimmed by 10mm in width (5mm each side), and 10mm in height, and Door / Side Panels 686mm (27") and over can be trimmed by 20mm in width (10mm each side) and 20mm in height.
Technical Information
If you need installation or care/maintenance advice with our products, please visit our technical information section or call us on 0203 846 0345.
Reasons to shop
with us
Specialist suppliers of high quality, internal and external folding and french doors. Buy direct for the best price.
Nationwide
Delivery
Delivery to most mainland UK postcodes within 3-7 working days. Free delivery on all bifold, sliding & french doors.
Easy
Payment
Secure online payment processing through Sage Pay, for your peace of mind.