Buy Direct For The Best Price
Free Delivery On All Bifold, Sliding & French Doors
Pay In 3 Interest Free Payments
Sale Now On 10% off all Internal Bifold Doors
1981 X 762 X 35mm (30") White Victorian 4 Panel Shaker - Frosted Glass Internal Doors
Internal Bifold Doors


762 x 1981 x 35mm Internal Bifold Doors
Door Size
1981 x 762 x 35mm (H x W x T)
£117.99 + Free Delivery
The White Victorian 4 Panel Shaker - Frosted Glass Internal Doors are part of the Shaker Internal Doors range here at Climadoor, where you can find many more doors in a similar style. Alternatively, if you are looking for a 762mm size door, take a look at our complete range of 762mm - 30 Inch Internal Doors.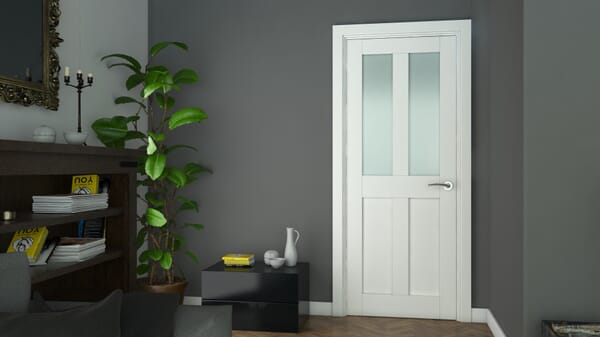 Shaker-style doors are doors which feature one or more panels set into the surface of the door. They're a very popular choice because they're simple and classic, so they never look dated. They're equally at home in modern or more traditional properties. This oak internal door is part of our white Shaker range, and features 4 panels. The top two panels are glazed to allow natural light to flow through your home. The frosted glass means that the 4 panel obscure glazed Shaker is ideal for areas that need a bit more privacy, such as bathrooms. There is also a white shaker 4 panel clear glazed option, and an unglazed white Shaker 4 panel door in the range. So you can choose the right white Shaker door for any room in your home. These internal doors are supplied pre-glazed, and feature toughened safety glass to conform to UK regulations. They're finished in the factory with 2 coats of spray-applied primer, which gives a great base for painting to match your decor. Traditional in design, but with a modern touch, the 4 panel white Shaker glazed door is a stunning addition to any home. Order yours online today, only at Climadoor!
Technical Information
If you need installation or care/maintenance advice with our products, please visit our technical information section or call us on 0203 846 0345.
Technical Specification
20mm on 686mm and higher / 10mm on 610mm and lower
Reasons to shop
with us
Specialist suppliers of high quality, internal and external folding and french doors. Buy direct for the best price.
Nationwide
Delivery
Delivery to most mainland UK postcodes within 3-7 working days. Free delivery on all bifold, sliding & french doors.
Pay In 3
Interest Free Payments
Available on purchases between £30 & £2,000 with PayPal. Subject to approval.