Buy Direct For The Best Price
Free Delivery On All Bifold, Sliding & French Doors
Pay In 3 Interest Free Payments
Sale Now On 10% off all Internal Bifold Doors
Mexicano Oak Folding Room Divider (4 X 686mm Doors)
Internal Bifold Doors
On Sale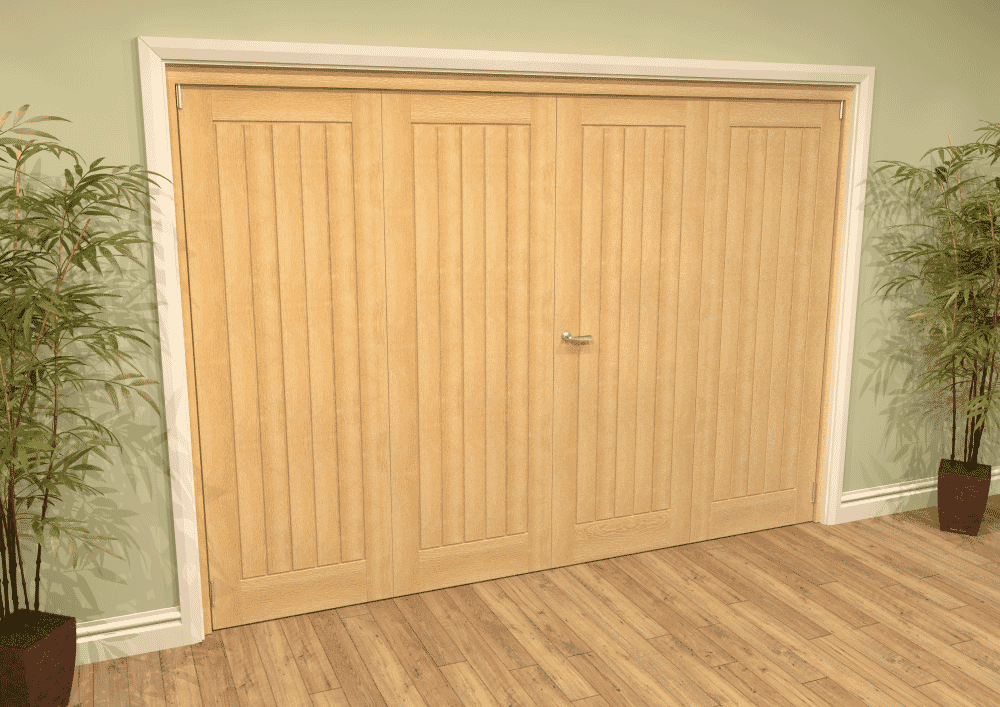 2826 x 2031 x 108mm Internal Bifold Doors
Outer Frame Size
2031 x 2826mm (H x W)
£809.10£899.00 + Free Delivery
Product Description
The UK's most popular Oak internal door, the Mexicano, is now available in the French folding room divider system. These frenchfold systems gives you all the benefits of bifold doors but with the added benefits of interior french doors with folding sidelights with either a central opening door, or pair of doors, and with the ability to fold the doors neatly away against the adjacent wall. These sets come complete with unfinished frame, all folding door hardware and drop bolts ( excluding handles and latch to allow you to match existing ), and Mexicano Oak unfinished, solid doors, with a comprehensive set of fitting and assembly instructions. We also offer matching single leaf, glazed and panel doors to match to allow you to match these doors. Mix and match with other items in the Mexicano internal doors range to create a consistent look across your home.
Technical Information
If you need installation or care/maintenance advice with our products, please visit our technical information section or call us on 0203 846 0345.
Technical Specification
Brushed Stainless Steel Pivots, Hinges and drop bolts
Reasons to shop
with us
Specialist suppliers of high quality, internal and external folding and french doors. Buy direct for the best price.
Nationwide
Delivery
Delivery to most mainland UK postcodes within 3-7 working days. Free delivery on all bifold, sliding & french doors.
Pay In 3
Interest Free Payments
Available on purchases between £30 & £2,000 with PayPal. Subject to approval.