How To Install/Fit Your External French Doors
Introduction
Should You Install Your External French Doors Yourself?
That's the first question you need to ask yourself. If you have a lot of DIY experience with major housebuilding projects then fitting your own external French doors shouldn't be beyond your capabilities. However, if you're fairly new to DIY and haven't previously taken on much more than a bit of wall painting, then you might want to think about calling in a professional to prevent a lot of heartache later on. These are some of the things to take into consideration before making a decision:
Have you got some competent DIY friends to help out? Installing French doors is not a one person job and you will certainly require help from at least one other person; two or three more will make the job faster and easier.
Are you sure you can get it all done in one day? You won't want to leave your house open to the elements (or potential burglars) overnight. Remember, professional fitters do this all the time so they won't need to spend time reading and re-reading the instructions that come with the doors.
Have you checked whether or not you need to inform your local building regulations office of the work you intend to do? Most replacement doors and windows do not need planning permission (unless you are planning on knocking out part of a wall to enlarge the opening or unless you are working on a listed building) but do require building regulations compliance certification. You can of course just go ahead and do the work without certification, but this may prove tricky if you decide to sell the house at a later date. You should inform your local office of the work intended, and then make an appointment for an inspector to check the quality of the work and issue a certificate, for which they will charge a fee. Should you decide to use a professional tradesperson to carry out the work, check if they are registered under the Competent Person Scheme, in which case there will be no need to refer to the local planning office as your new French doors will automatically be deemed to meet building regulations. If you need to know more about this, you can find out more here.
Are you installing new French doors into an opening where doors previously stood? If so, it is simply a case of removing the old doors and replacing them with your new ones. However, if you want to widen the opening (maybe there was a single door there before) or you want French doors in place of a window (which will involve knocking out the brickwork below the old window) then you should employ a builder to do this work. You certainly don't want your house to collapse around you because you removed a load bearing wall or to find you've cut through some electrical wiring.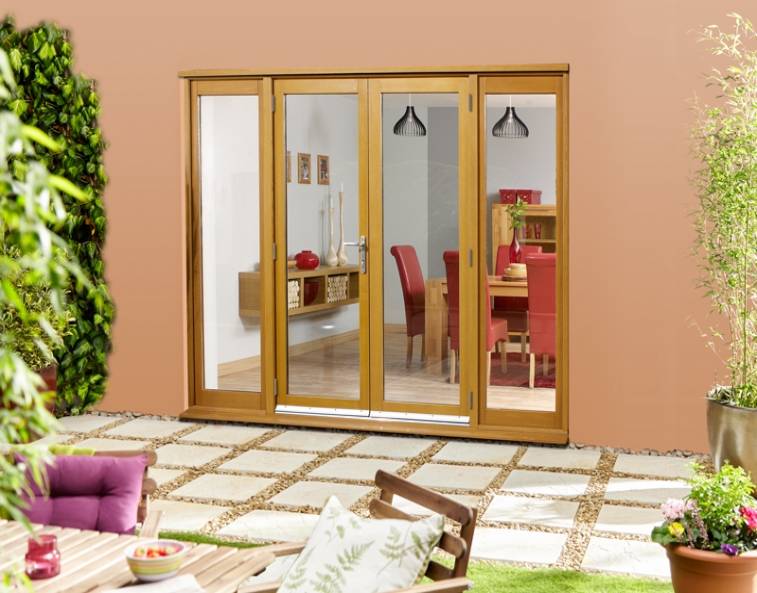 How To Install Exterior French Doors
If, having given serious consideration to all the above points, you've decided to go ahead with this exciting home improvement project, then here is a step by step guide to fitting your exterior French doors.
Tools Required:
Carpenter's square
Power drill
Phillips-head screwdriver
Flat-head screwdriver
Hole cutter
Pry bar
Flush cutting saw
Rubber mallet
Paddle bit
Hammer
Standard drill bit
Long level
Utility knife
Safety glasses
Nail punch
Tape measure
Chisel
Check exactly what is provided in your French door kit. Some include all the fixings and things like door furniture, whereas others may provide only the basic doors and frame. Most French door kits should also provide comprehensive fitting instructions which you should read carefully before attempting to install your doors, ensuring that you have any additional materials suggested.
Once delivered, store your French doors in a flat position, and not on an edge or an end. They should be on a level surface and kept clear of the floor on at least three level bearers.
Step One – How To Measure Your Opening
It is the brick opening that you need to measure, not the old doors and frame. Measure brick to brick in three places for the width – at the top of the opening, in the middle, and at the bottom. Then measure in three places for the height – near the left side, in the middle and near the right side. Remember to take each measurement twice and get someone to help you hold the tape measure straight and taut. Use the smallest measurement in each case.
When deciding which size of French doors to buy, deduct 10mm from your final height and width measurements to allow for accurate plumb and square fitting into the aperture. Spacers and filler can then be used to secure the frame into place and fill any gaps.
Check that your brick opening is not a helix. The opening needs to be both straight and plumb in both directions, otherwise the two doors will not be even at the bottom when closed. Use two pieces of string to check this, attaching one piece from one lower corner to the opposite upper corner, and the other between the two remaining corners. The string creates an X across the opening, and both pieces should just touch at the point where they cross. If there's a gap, your opening is twisted which will need to be taken into account when fitting your new French doors. Check the second string on both sides of the first string, as the gap may only be apparent from one side.
Also check that the floor is level. If not, you'll have to insert packers to ensure that the frame is entirely level when you fit it. Time and care taken at this stage will make life easier and quicker later on in the installation process.
If you've removed any mouldings or architraves which you want to reattach at the end of the project, make sure you number and label all the parts to allow for quick and easy replacement.
Step Two – Prepare The Space
Most French door kits come as a complete system, with doors already hung in the frame. This means that the fitting should be fairly straightforward once you've prepared your opening. Make sure nothing remains of the old patio doors and frames and that the brickwork is secure. Then seal round the whole opening with a suitable sealant, or caulk for outdoor use which should waterproof the whole area. Check the packaging so that you know how long to leave it to dry. Then add any 2x4" wooden boards needed to cover excess space if your new doors are not quite the same size as your opening.
Step Three – Install The New French Doors
Centre your new doors into the gap. This is where you will need your assistants to help as the frame and doors are heavy. Slide them into the threshold bottom first, gently tapping the top of the frame slightly with the rubber mallet to get it firmly into the opening.
Now is the time to ensure the whole installation is plumb. Take your time over this, as once fixed in place, you won't want to take it out and start all over the again if you find the doors don't open smoothly or don't fit together evenly. Gently tap in wedged packers or spacers to ensure the frame is entirely level, and measure as many times as required to get this completely accurate. Check that the doors open and close properly.
Only when you are entirely satisfied that all is correct should you follow the manufacturer's instructions to secure the door in place with the supplied fixings.
Step Four – Finish The Doors
Seal all around the edges of the frame to ensure insulation, filling any gaps around the wedged packers you may have used to create a plumb and straight fitting. Use waterproof sealant suitable for outdoor use. Replace any mouldings or architraves if you saved these from the old door opening. Attach any door furniture if not already in place.
We hope this has given you all the tools you need to install your external french doors! If this is your first set of french doors, we have some helpful tips on how to adapt to your new external french doors including how to make them more child and animal friendly.
If you have any questions about any of our external doors, our team is here to help so get in touch today.
Summary
By now you'll have realised that installing French doors isn't suitable for a DIY beginner, but if you have a reasonable amount of experience and a lot of patience, it is not an impossible job for a competent and confident home handyperson. You will need determination and persistence to measure and adjust again and again to ensure the perfect fit in a perfectly square opening if you're going to avoid a sloppy installation, but it will all be worth it when you're enjoying the view through your beautiful new French doors.
If you've not made your mind up, check out our range of bifold doors too!