Weatherproofing
Unless you take extra measures to make them so, your external bifold doors will not be 100% weatherproof right out of the box, but they are, generally speaking at least, just as qualified to keep your home warm and well insulated as a french door, and are more flexible when it comes to locking options.
Indeed, most bifold doors will have a lower threshold than competing doors, which means they sit lower in the frame, therefore leaving less room at the foot of your doors for the cold weather to seep in. You can also make this threshold even more secure by adding a rubber or brush seal to not only keep out water and cold wind, but increase your homes insulation.
Materials and Protection
The most common external bifold door materials for home use are wood and UPVC with double-glazed glass panels, as double-glazing is not just a choice, but a necessity in this day and age. UPVC is a lot cheaper and requires less maintenace, but wood and aluminium bifolds are more durable and longlasting.
Timber and oak frames are quite popular because they look more 'substantial' and, whilst they require a little more care and attention, hardwood is a proven material when it comes to keeping the elements at bay. You might even opt for engineered wood, which is, as the name suggests, a wood developed specifically for durability. Engineered wood is also often more affordable, though many purists will complain it's not 100% natural.
If your home is located in an area that's often subject to more harsh weather conditions, you might want to consider going with an aluminium construction. This might set you back a little more, and might not have the same 'organic' look as a decent wooden door, but the extra defensive properties it offers might swing the deal for you.
There's also a common misconception that aluminium doors are cold to the touch, but if your doors are thermally sealed they should only be cold on the outside. If you live in a more temperate area, meanwhile, but still wish to up the protection of your bifold doors then you can buy a weather seal kit or even weatherproof paints or varnishes to improve the weather protection of your doors.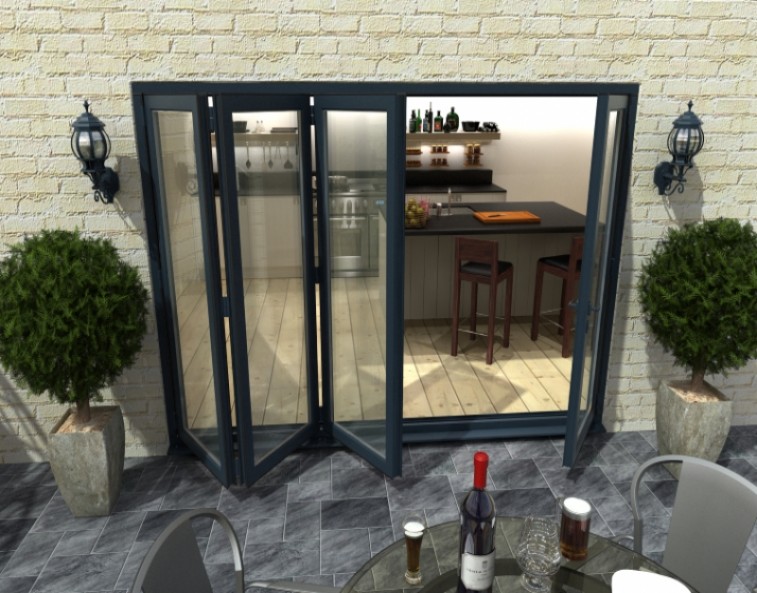 Anti-Theft
Most external bifold doors will ship with a multi-point locking system as standard, which means it is, by definition, more secure than a standard door, which will typically only have one main locking mechanism that can be drilled out or kicked in with little effort.
Bifold doors also come with strong glass panes so any intruders would need to physically lift the doors out of their tracks to break entry - this which would be incredibly complicated for them without a toolkit and knowledge of how the doors work. Bifold doors are very secure but if you wish to take extra precautions we have included advice on the options available.
Bifold Door Alarms
It's true that alarm systems can be unruly, but they can be a necessary security measure if you really want to keep your home secure. They can be fitted to be surprisingly subtle, and shouldn't damage the aesthetic value of your home. You can also now purchase alarms that can be synced up with your computer, smartphone or tablet, so you will always be able to keep an eye on your home, even when you're not home yourself.
If you don't want to go to the expense of installing an alarm system, some homeowners install 'fake' system boxes, that they think will dissuade thieves due to their mere presence. Be warned though, as many thieves will be able to see through this disguise.
Security Screens
If you don't want to go all-out with a home security system, however, you could instead opt to install an extra security screen. It might rob your bifold doors of a little of their elegance, but they are great ways to maintain a certain level of security in the summer months when you'd prefer to leave your patio doors open, but still want to be protected. These mesh screens can also be quite decorative, and will also keep out harmful UV radiation and dust, and will increase your home's general ventilation.
Bifold Door Locks
Whilst the multipoint locking system in your external bifold doors should be sufficient for most homes, if you are particularly weary about security then you might want to install an additional lock. The following types of lock are just a selection of the locks you could consider to either act alongside your multipoint locking system or on top of it.
Twinpoint – This lock includes a handle that operates from the top and bottom of the lead door and can secure it in one movement. This is maybe the most attractive lock too, as it will come with the widest selection of styles and finishes.
Dropbolt/Deadbolt – These are generally secured by a key or twisting lock, but for added security you'll obviously want a key. They can also be installed pretty easily, but are notoriously difficult to crack, so, in theory, you're getting the best of both worlds!
Childproof – Moving past potential break-ins for a second, another reason you might want to keep your external bifold doors secure is if you have small children, especially if they happen to be keen explorers. These locks are designed to be easy for adults to unlock but difficult for children, and can range from simple zip-tie locks to more substantial locks that slip over the top of your bifold doors.
Hopefully, this has reassured you about the safety of external bifold doors. To make sure your bifold doors stay in their best shape, you can also read our guide on how to adjust external bifold doors to make sure they are closing, and locking, properly.
You can view our full range of external bifold doors here, and if you have any questions our team is here to help so get in touch with us.
In Summary
Ultimately, bifold doors are a more flexible and attractive alternative to french or sliding doors when it comes to safeguarding the rear of your home. They also keep their looks and are undeniably a more modern solution that could even raise the value of your property! We have a wide range of external bifold doors for you to check out as well as internal bifold doors. They're a fantastic addition to any home.