Choosing The Right Style
The way the door looks will have a big impact on the rest of the home. Contemporary decor goes well with flush doors, while more traditional looks may suit a panelled door. Solid timber is the most expensive option but is a good idea if you can afford it, because it will last many years. Moulded wood fibers are less expensive, and lighter, and can still look great, while being more friendly to a wider range of budgets.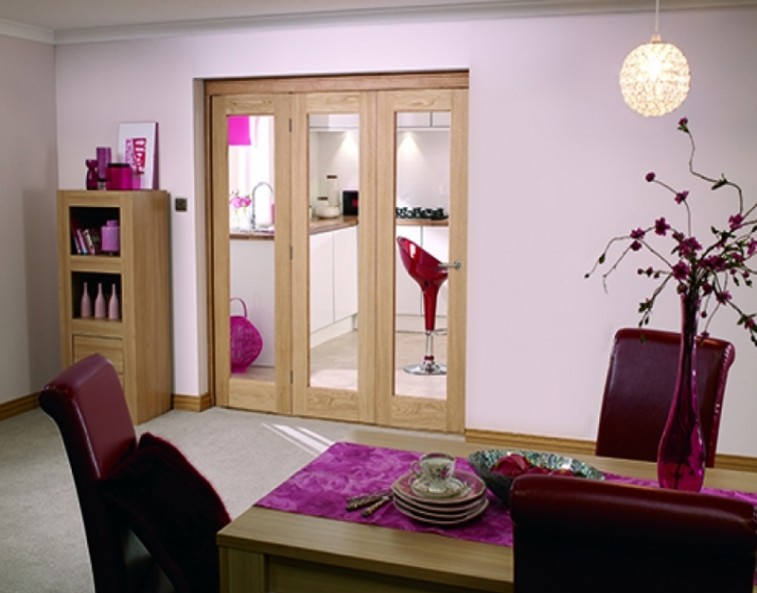 The Benefits of a Finished Door
Finished doors are perhaps the most convenient option. You can simply buy them and hang them. There is no extra expense to worry about in terms of buying undercoat, stain or paint and the tools to paint the door. In addition, you'll save time too, since you don't have to strip, prime and pain the door – which can be a three day job if you paint both sides, because of the required drying time.
This makes finished doors a great choice if you want to save time and money, and if you're happy with the colour scheme and finishes that are available to you. Note, however, that finished doors are only available in a few common colours. If you want to customise your room's appearance beyond a few common looks, then you might not be able to find the sort of thing you want.
When to Choose Unfinished Doors
Unfinished doors, in contrast, are plain – a blank slate that you can do what you want with. There are actually two styles of unfinished door; the pre-finished door that has an undercoat on it, and a door that is bare wood, that you will need to prepare and finish yourself.
Unfinished doors are usually a little cheaper, and they are a good choice if you want to have an unusual finish, or if you are planning on doing out the entire room in exactly the same shade. This gives you more freedom and flexibility, although it will mean that you need to put more time into installing the door.
If you do buy unfinished doors, make sure that you pick the right kind of wood for the room. There are a lot of different types of wood to choose from. Oak is perhaps the most popular material right now, since you can match it easily to most of the other wood in the room, and it has a nice high quality, luxurious look to it. Veneer doors are more affordable, and come in a range of finishes, so you can get the look of oak, ash, walnut or beech at a fraction of the real cost.
Moulded doors are also popular – these areaffordable, and are available in most sizes, while offering flexibility in terms of look.
Other Bifold Doors Options To Consider:
Glazing
If you don't want a plain wood door, then you could always choose an internal bifold door with some slats or some glass panels. These can be a nice way of bringing extra light into certain rooms, while still ensuring that the rooms are warm and enjoying the benefits of sound insulation. If you need to retain some privacy, you can use privacy glass that is frosted or embossed. The surroundings can be pine, oak, veneered wood or even UPVC depending on your budget.
Hardware
The type of hardware you choose, and the location of the hardware, will make a difference not just to the look of the door, but also how comfortable it is to open and close. Usually, the handles or knobs are positioned on the trailing edge of the door as it opens, which makes for smooth and easy movement. Sometimes, for aesthetics, people prefer to have the handles in a different position.
For smaller bifold doors this isn't an issue, and it doesn't add too much to the amount of force required to open the door, but for bigger doors it can be a little problematic. Unless you have a strong preference, opt for the traditional placement. It's up to you whether you choose a handle or a knob, styled to match the rest of the room.
Be sure to look at trims, too. The right trim isn't purely utilitarian – it adds personality to the door, and can make a boring, plain opening look more inviting. Just because the door opens onto a store cupboard or a laundry room, it doesn't mean that it has to look boring!
If you choose an unfinished bifold door, we have a helpful guide on how to paint your internal bifold door. Whether you decide on finished or unfinished, check out our full range of internal bifold doors as we have options to suit every style. If you have any questions, get in touch with our friendly customer service team who will be happy to help.
In Summary
Internal bifold doors make a great addition to large rooms, and can be good even for smaller openings too. They offer a nice way to save space and add a distinctive appearance to any room. With the right finish and trim you can have distinctive, great looking doors that will not just serve a functional purpose, but add to the atmosphere of your home.
Great design features can also be achieved by our external bifold doors - part of our extensive patio doors range. For more choice, we also have ranges of internal French doors and folding doors for you to browse from. Check out our blog or head to the FAQs section if you have any queries. If we haven't asnwered your question there, don't hesitate to get in touch!