Unfinished Doors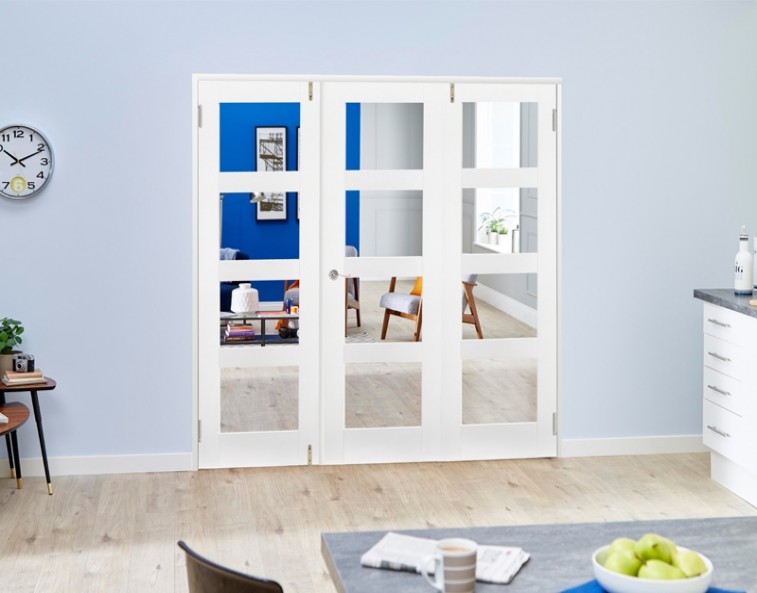 Unfinished doors are usually the most affordable option, but you will need to spend extra on paint or wood stain. Unfinished doors are supplied unpainted, ready for you to treat or stain to match your existing decor. They are usually sanded smooth, but you may need to sand them with a fine grain and then prime and paint them – or treat them with an appropriate varnish or stain.
Depending on the type of paint or stain you want to use, you could need an undercoat as well. This means that it could add a lot of time and labour cost to the process of preparing and fitting the door. Painting doors can be time consuming, and you will need to take care to follow the grain of the wood, and to protect the glass (if the door has glass panes) with masking tape so that it doesn't get paint on it. See this guide for more information about how to paint a door to get a smooth and professional finish.
The benefits of unfinished doors are that they are less expensive than pre-finished doors, especially if you already have the paint on hand. In addition, you have the flexibility of choosing any colour or stain that you wish. This means that if you have unusually coloured skirting boards or wallpaper, you can buy an unfinished door and then paint it to match or contrast that existing decor, instead of restricting yourself to more common, often neutral, colours.
Prefinished Doors
Pre-finished doors are exactly what you would expect – doors that are shipped pre-painted and ready to hang. You don't need to worry about finding the space to paint them, and waiting for them to dry before you hang them.
There is a marginal price premium on pre-finished doors. However, if you were going to need to purchase paint, brushes, rollers and other accessories to paint your doors then buying a pre-finished door could potentially save you a lot of time and money. You are, of course, limited to the colours that the manufacturers sell. Usually, there is a good selection of colours on offer, though, and you are guaranteed a smooth and professional looking finish if you buy doors that are already finished.
Doors With Glass Panels
French doors are typically sold with glass, and there are many types of glass to choose from, including:
Frosted
Clear
Embossed / Rippled obscure glass
Leaded/Stained
Glass panels are often used to decorate interior French doors, and there are a variety of different glazing options to achieve the style you prefer.
Frosted glass is a good option if you want to let some soft, natural light through but still want privacy. You can get a similar look with embossed/bubbled glass but frosted tends to have a softer and more pleasant appearance.
Clear glass is a popular choice for French doors that join a kitchen and living room, because it gives you a clear view of the living room. Some doors have one-way glass, that offers you a view of what's going on outside, but still offers you good privacy.
Rippled or obscure glass is popular in bathrooms, but it can be used in any room where privacy is important. Privacy glass of this type can be smooth to the touch, with the ripple effect sealed inside the glass, or it can be a 'bubbled' effect where the glass is not completely smooth.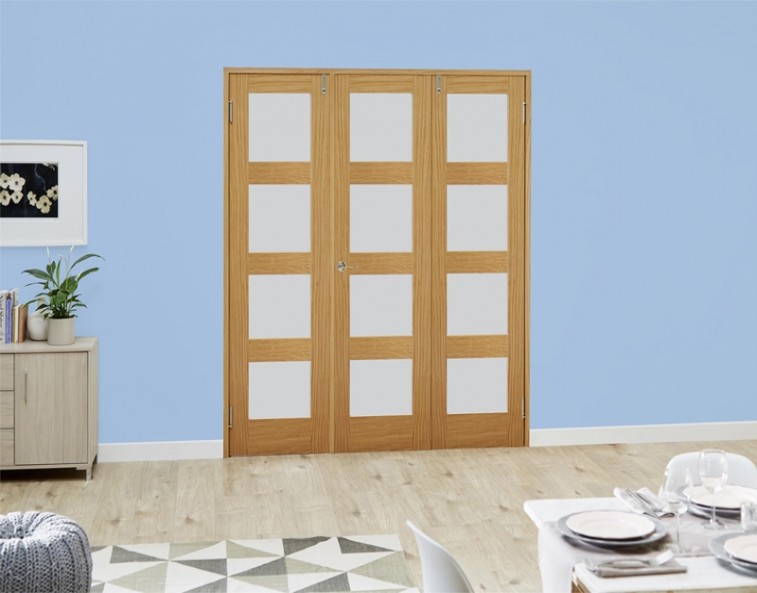 If you buy a new French door with glass, then the glazing will be a form of safety glass as standard. This glass is strong and will not break through incidental contact. If it does break, it should shatter in a way that minimizes potentially dangerous shards.
Usually doors are shipped with the glass already in place, so all you need to do is hang the door. This is a fairly simple job, but it is a good idea to work with a second person who can support the door while you adjust it and make sure that it moves smoothly.
Do remember that glass can be surprisingly heavy. If you buy glass doors, be sure to store them carefully while you are waiting to hang them, and get someone to work with you so that the door is not damaged when you install it.
Doors Without Glass
French doors don't have to have glass panels. You can buy ones that have wooden panels – either recessed in a similar pattern to how the glass panes would be, ornately carved, or just flat. Solid wooden panes can be an appealing choice if you want a more cosy feeling, or you just want plenty of privacy. Wooden doors are usually less expensive than glass doors – especially in cases where you'd be looking for double glazed glass.
It's hard to find full hardwood French doors in a multi-door configuration because such doors would be very heavy. However, hardwood effect doors made from engineered wood are quite commonplace. These doors have a hardwood veneer, but are hollow/fibreboard inside, which means that they are much lighter, as well as much less expensive. They have the same look and feel as hardwood, and are very sturdy, but a fraction of the cost.
Double vs Single Doors
Internal French doors are usually double doors, but you can opt for folding French doors in 2,1 or 2,2 or even 3,2 configurations. The numbers represent the number of doors on each side. So, a 2,1 set of doors would have two doors on the left, and one on the right. You could buy 1,2 set that has the single door on the left. Most manufacturers offer solutions up to six doors long by default, and you can get more unusual configurations made on request.
Single doors will just hinge open, and the way you fit the hinges will dictate which way the doors swing. Double doors (or longer combinations of folding doors) will fold in or out, depending on how the hinges are fitted. One door will be a 'hinged' door, that you can use just like a normal door. Usually, this is a door at one end, but it is possible for it to be in the middle. Again, exactly how you set this up will depend on the style of the door and the configuration as well as the layout of your home.
French Door Fixings
External French doors will need a good multi-point locking system, and this puts some restrictions on how the door can be operated, since you will need a handle with a lock, positioned appropriately. With internal French doors, you have more freedom to use door knobs or pulls instead of handles and you can position those differently to make the door easier to pull or push.
You also have the option of having a system that is top hung, one that has a lower track, or a trackless system. Again, which of these you choose will depend on the size of the doors, how heavy they are, and how many doors you have, as well as some personal preference.
The tracks in folding doors are there to serve as a guide, only. There are pins at the top and bottom of the door, and these carry the weight, as do the hinges. The tracks are a guide and make sure that the 'second door' moves on the correct path. If you remove the track, then the door will open out much further, but may swing more than you want.
In most cases, tracked doors are the better choice because you have more control over how they open and how far they open. A high quality track system will operate smoothly and will protect your doors from damage.
Some people find that tracked doors become difficult to move after a while. This is because of a build-up of dirt and debris in the tracks. If you clean the tracks periodically you should find that they remain smooth to operate.
Some manufacturers sell French doors as 'just the door', while others supply the handles, bolts and other fixings. Many homeowners prefer to buy 'just the door' so that they can choose their own handles and other hardware to match whatever they have in the rest of the property. For example, you might want chrome polished handles on every door, or smooth, black plastic, depending on the style you have gone for with the rest of the house.
French folding doors are great space savers so check out our full range of french folding doors which come in styles to suit any home. If you have any questions, get in touch with our friendly customer service team who will be happy to help.
In Summary
Internal French folding doors are one of the best ways to optimise space, add natural light to a room and give a touch of Parisian glamour to your home. With many styling options to choose from, French folding doors offer a functional, practical solution without having to compromise on interior design.