French Doors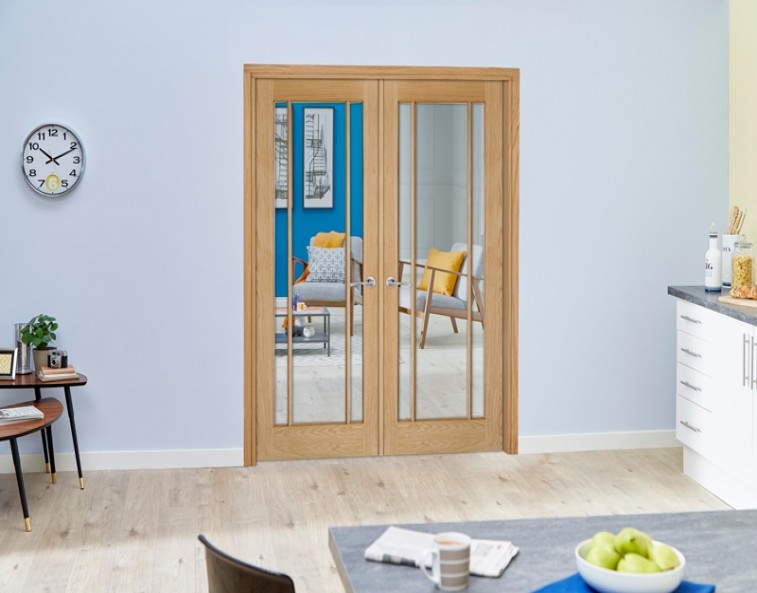 A set of internal French doors comprises a pair of ordinary-size double-doors, each with a lot of glazing. Of the three under discussion here, this design is the simplest. French doors open outwards into the next room, they have a classic style and are probably the most common style of interior door.
You'll often find French doors used to bridge large adjoining rooms in a property. They're attractive for several reasons. Firstly, they're simple and elegant – which, as well as being a good thing in and of itself, also helps to cut down the cost of construction. Contrast this with the elaborate folding designs we'll come to shortly, and their intricate moving parts, and the difference is clear. This simplicity also helps reduce the risk of malfunction – a French door cannot be forced from its track, for example.
Secondly, French doors tend to be smaller than the alternatives. This compactness means that you'll be able to fit them into more places around the house. Bifold doors and sliding doors tend to have numerous panels as a minium whereas French doors typically only encompass two door panels. While still producing a wider than normal doorway, they are still small enough to suit most properties. This is perhaps one of the advantages of using internal french doors, they are more convenient for less spacious homes.
With the help of frosted glass, internal French doors have a great tact for maintaining privacy within a home. The stylish doors can be used to add more light into your rooms and decorate the interior of your home, while the frosted glass design help to keep the contents of your rooms private. These may be especially useful for more intimate rooms within your home, for example the bathroom or bedroom, or they can be used to veil the untidy secrets of storage rooms. You could also use multiple French doors in close proximity with one another in a hallway to create an expansive 'wall-of-glass' effect.
Interior French doors tend to offer a wider doorway while still resembling the classic door style. They are best used for doors where you want a little more width but without having to necessarily knock down walls. They can't be made quite as large as sliding or folding doors, but if you wanted to make them more expansive they can be augmented with extra windows on either side, known as 'sidelights', and on top, where they're known as 'transoms'.
Sliding doors
A set of sliding doors consists of several panels, each tethered to tracks so that they're able to slide behind one another. Since they don't open outward, they allow furniture to be placed closer by. This also means that sliding doors can be made far larger – with some panels up to several metres wide.
Sliding doors can be arranged in a number of ways. You might have several large panels which slide behind one another, or you might prefer a larger number of smaller ones which can do the same job. The more panels you have, the more tracks you'll need for them to slide behind one another, and the chunkier your frame will need to be to accommodate it.
It's also worth noting that it's impossible to entirely open out a set of sliding doors: at the fully open position, they'll still be entirely stacked behind one another, and so be no smaller than a single panel. If you find that you're frequently moving from one side of the door to another – and running into foot traffic coming in the other direction – then this might prove troublesome.
Interior sliding doors are best employed in large openings which adjoin long and narrow rooms. In this setting, you'll have enough space that not being fully collapsible won't be a problem, and you won't have to worry about space on either side of the glass, as the panels of a sliding door don't swing outward. If you've got a kitchen, dining room or conservatory sitting right next to one another, then a sliding door might prove especially useful. You can choose between sliding doors with glass panels or you can completely separate rooms with opaque wooden doors.
Bifold doors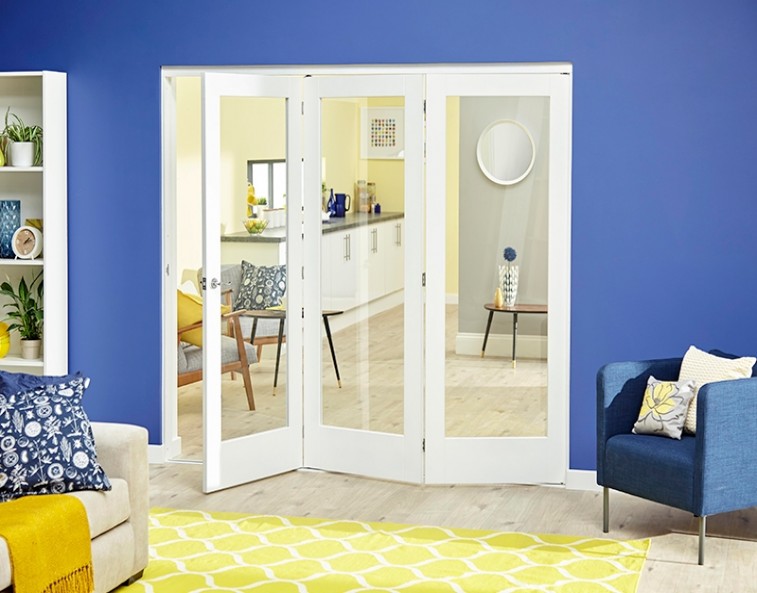 The most elaborate form of door in the modern home is undoubtedly the bifold door. You might find smaller versions of this design in places where space is at a premium – in front of miniature storage cupboards and wardrobes, for example. Each door consists of several folding panels, which attach to one another via hinges in a concertina arrangement. This means that they can cover distance with smaller panels, and so open without encroaching too far into the surrounding space.
This virtue becomes especially obvious when you consider larger bifolding door designs, which can be seven metres wide or more. Thanks to their folding design, they can collapse without swinging outward across the entire room. They're restricted to a single plain of motion; each panel is tethered to a guide rail via moving carriages, which prevent the door from swinging outward, and ensure its weight is evenly distributed across the length of the door.
One key advantage a folding design has over a sliding one is that the door is able to collapse more fully, with the panels neatly stacking to one side when the thing is entirely open. However, the downside of this is that the door expands slightly as it closes, which means that you'll need to clear a space on either side of it. If you're looking to hang curtains or blinds, then this might prove especially problematic.
Folding doors are very flexible when it comes to their layout. They vary in size – not only in terms of the entire door, but of the panels which comprise it. You might find a large door built from just three or four panels, or from six or seven narrower ones. Internal bifold doors are great for larger spaces. They can completely separate off open space living quarters acting as room dividers. This quality is something they have in common with sliding doors but are not evident in French door styles.
In most cases, each of the panels is attached to a single long chain that is attached to one side of the frame, so that the entire door can collapse in one direction. This is the bifold door style. In some cases, however, you'll find two sets of equally-sized panels which extend from either side to meet in the middle. This design is known as 'French-fold', as it mimics the double-door design of a set of French doors. In other cases, you might find a symmetrical design comprising a single door on one side and a long chain on the other. This allows you to move from one side of the door to the other easily, without having to go to the trouble of opening out the entire door. Internal French folding doors are similar to bifold and sliding doors in their spacious nature but you still benefit from the traditional opening style of the classic french doors.
Read our guide on Bifold doors vs French doors to find more information on the difference between these types of doors so you can find the correct door for your home.
View our full range of internal doors to find the door that best suits your style and if you have any questions, get in touch with our friendly customer service team who will be happy to help.
In Summary
Each variety of door we've mentioned comes with their own advantages and disadvantages, and your choice will hinge on the layout of your home (and, naturally, your own personal tastes). Materials, glazing and installation can each have a bearing on how your door ultimately looks and functions – so be sure to assess your options carefully before committing to a purchase!