Purchasing any door can be an arduous task, but when you're after something a little more stylish such as internal bifold doors, we're aware that things can get a little complicated.
We're making things easy for you. In fact, this buyer's guide promises you just one thing: jargon-free assistance to finding which bi-folding doors are right for you.
First things first…
What is a bi-folding door?
Typically, a bi-folding system includes three doors that fold in two places; hence the name bi-folding. However, the name also usually extends to any doors which fold, regardless of the quantity of folds that it has – there aren't many people that refer to a name of tri-fold doors or quad-fold doors!
What size of bi-folding door do I need?
All products are manufactured to a standard height of 2074mm. However, if needed, you are able to trim the doors right down to 2040mm – and of course any height in between.
When it comes to the width, we start manufacturing our internal bifold doors from 1671mm (66" – 5ft 6) and all the way up to 4652mm (183" – 15ft 3).
Simply measure the space that you want to hang your internal door system and you'll be good to begin looking for the perfect size for your home. You should always look at standard door sizes in order to keep costs down, but with the help of an experienced joiner you should always be able to fit interior bifold doors without any hassle at all; they're much less difficult to fit than their external counterparts.
A common question we're asked is whether we supply doors with an even number of doors, with two on the left and two on the right for example. Whilst these can be supplied, customers are often left annoyed with this style after a few months because you're unable to just open one door – you always have to open two. As a result, systems with an uneven quantity of doors (usually three or five) are much more popular.
If you have any doubt over the size of the door that you need, call us up and one of our advisors will be available to help you out between the hours of 9am and 5pm.
Do you need a tracked or trackless system?
One thing you need to look out for when purchasing your bi-folding doors is whether it's a tracked or trackless system.
Trackless systems – such as our Roomfold Standard – are far more popular because they do not leave a threshold strip or metal track visible when you have your doors open; all of the running gear is in the head of the door. Tracked systems connect to the bottom and therefore need a track running underneath the doors, which is generally considered a less visually appealing option.
However, the benefit of top-hung systems with base tracks are that they can work with much bigger door panel widths, making glass areas bigger, and access doors bigger too. It's this reason that makes our Roomfold Deluxe system so popular too.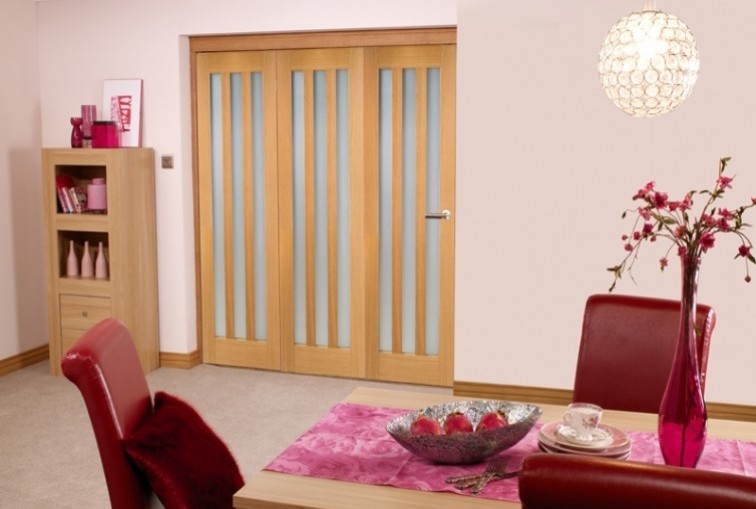 What style of door do you want?
Now that we've got the boring stuff out of the way, we can begin to look at what style of door you want – which interior door is going to bring your house to life.
The first thing you want to consider is the type of frame you'll be wanting – will you want oak or white? All CLIMADOOR products are designed with a solid core; not air filled and lightweight like cheaper alternatives.
You'll then want to decide what type of glass you'll be after in the windows; will you choose glazed (clear) or frosted?
The truth is, picking the design is the easy part – and the most fun!
Once you know the basics such as the size you need and what type of internal bifold doors you're after, it's down to personal taste and the style of your home interior to find the perfect style of door to suit. Head to the full bifold doors range for our safe & secure external options too!