French doors at the front of your house
External French doors can create an impressive entrance, brightening a dark hallway and allowing light to flow through your home. If you have a porch-style entrance, the wider opening of French doors makes it much easier to get under cover quickly if you're returning home in poor weather, and provides a good place to store umbrellas and boots too without having to take these into your main hallway. A mixture of a glazed doorway and side lights can illuminate what is often a dark and dismal area of the home and provides a warming welcome for visitors.
But what about unwanted visitors, I hear you say. We don't want to give them a warm welcome! If you've been reading about French doors and security, you'll know by now that they incorporate all the same, up to date security measures as solid doors, so this should no longer be a cause for concern.
Even so, you may be worried about your privacy. All this extra light is, of course, wonderful, but you might not want your neighbours watching your every move. This is where the wonders of textured or frosted glass come into play. You can choose which panes of glass you wish to remain clear and which you'd like to be obscured, all while retaining the same levels of light. If you already have clear glass which you don't want to replace, an affordable option is to buy sticky film which you can cut to size. This is available from DIY shops or online in a range of designs. If you're completely replacing old doors and windows with new French doors and side lights, you can check the choices offered by manufacturers. There are a range of frosted glass options to choose from, so you can choose a design to suit you.
If you're considering completely remodelling your front entrance, remember that your front door doesn't have to face the road directly. You can always place the opening at a 90 degree angle resulting in a clear view into your property only from that side of your house.
If you have space at the front of your house, you might want to consider screening your path and entrance porch with a hedge, fencing, or a trellis with a climbing rose for example. This would help to obscure the view inside from passers-by without compromising on illuminating your hallway, and also creates a nice transition zone between the house and the street. Not only will you and your family benefit from the additional light, your dog will be able to see the post arriving, thus making his life brighter too!
French doors at the side of your house
All the above considerations about front facing French doors apply to side doors too. If your kitchen door opens onto the side, this dark corner may benefit from being opened up with glass doors and/or side lights. Some houses have a substantial garden to the side rather than just at the back, so it's worth making the most of this piece of land. It can make a good play area for young children as you can fence it off from the larger back garden, and use the French doors to keep an eye on little ones while knowing that they can't wander out of your sight.
French doors leading onto a balcony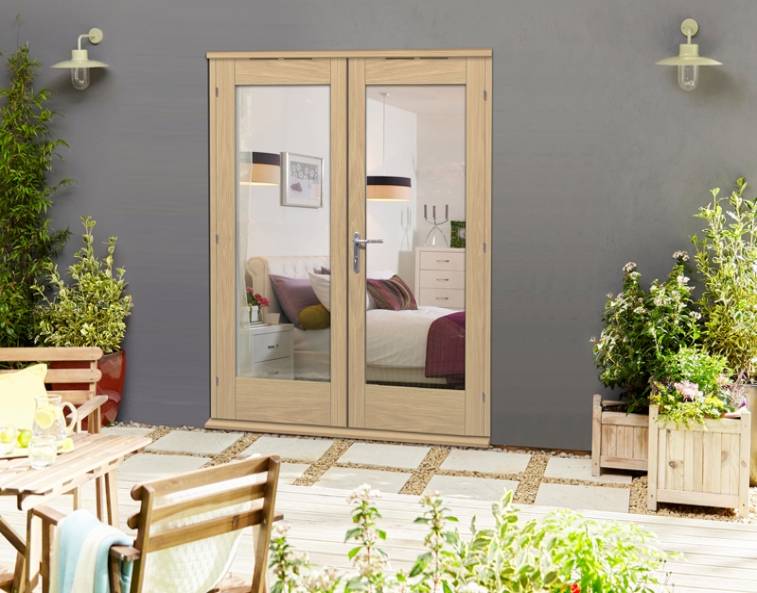 A balcony offers the perfect situation to install external French doors. You may already have doors on an existing balcony which you want to replace, or you could consider opening up a completely new aperture, installing French doors and creating a new balcony if you have a room which looks over a ground floor extension. If you don't have the luxury of this, you can still install French doors and fit a Juliette balcony instead. This is basically a barrier fitted to the outside of the building, allowing you the delights of inward opening French doors despite not being able to step out onto a balcony. This allows you to let in extra light but also bring fresh air into the room on those warm summer days. There is also somewhat of a romanticism associated with being able to open French doors from your bedroom onto a balcony.
Don't forget that if you are planning on installing windows where there was previously solid brick, you should check whether or not you need planning permission or are required to follow building regulations. You can find out more here and here.
French doors and conservatories
A conservatory or orangery at the side or rear of the house is the perfect place for French doors as letting in more light is the raison d'etre of these beautiful constructions. Make the most of the light by installing a run of several doors, side lights and transoms or top lights to bring the sun in at any time of day. The wider entrance is also great for wheelchair accessibility and letting more air into your home.
In Summary
French doors can be installed all over the house to great effect – don't forget they can also be used internally to increase the light flow around the building. French doors are a classic door style but double panel entrance doors help create a modern yet stylish addition to your property. Don't miss our range of bifold doors if youhaven't made your mind up!