Are French doors safe?
Despite the many advantages of this time-honoured door style, many homeowners are reluctant to fit exterior French doors because of perceived security issues. Do burglars really seek them out? While you may initially be worried about them making your house less safe, the facts show that French doors can be just as secure as any other external door. You just need to consider carefully how you can deter any potential intruder from picking on your house. Most insurance firms will give you advice on how to secure your French doors. If they were that unsafe, insurance companies would be advising against them altogether, wouldn't they? All your insurance company needs to know is that you have followed basic advice on keeping your property secure.
The glass means that everyone can look in to my home – isn't that unsafe?
Well, you could say the same about every ground floor window in your house, couldn't you? What steps do you take to prevent the whole neighbourhood looking in through your other windows? You can do the same with your French doors, but just on a grander scale. This opens up all kinds of interior design possibilities for your room. Swish, full-length curtains will keep in the warm and keep out inquisitive passers-by during the evening. When you want to take full advantage of all that natural light pouring in through your patio doors during the daytime, you can hang traditional net curtains or go for the more modern take on them with voile panels, which can also be bought in an array of colours rather than just cream or white. Venetian blinds are an evergreen, dependable choice, while the more fashion-conscious may want to opt for made to measure window shutters. All of these suggestions will give you the power to let the outside in when it suits without running the risk of letting others know your daily routines and habits.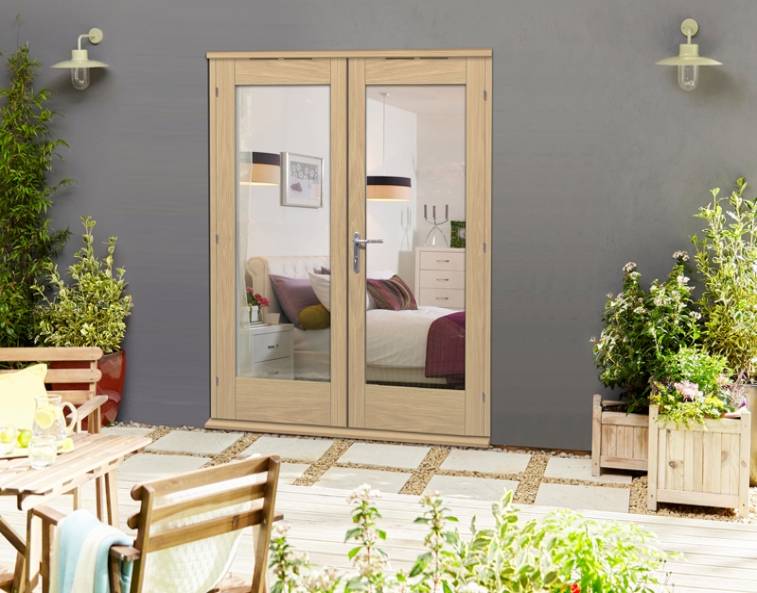 What other measures can I take to make my French doors as burglar-proof as possible?
Nothing is totally secure of course, but there are several precautions you can take to reduce your risk of being burgled. The weak points of French doors, when compared to other external doors, are the large glass panels and the central point where the two doors meet. Let's have a look at these in a bit more detail. After all, French doors remain an attractive addition to any home, so let's find out what other householders do to ensure their homes are as safe and secure as possible.
Make sure you lock your doors. It may sound obvious but many burglaries are simply a result of criminals seizing an opportune moment to get into your house. French doors on the back of the house are often forget about when it comes to locking up. Likewise, double entryways – if you have double French doors at the front of your house that open onto a porch before you are greeted with the main front door, these doors are often left open. Make sure you lock them every time you leave the house and beware of leaving them open while you're busy in another part of the house. This is a simple precaution which may make all the difference so make it a habit.
Use a mortice lock and deadbolt. A mortice lock is embedded into the door rather than simply attached to the inside, making it much stronger and more difficult to break. If you're fitting new external French doors, this is something you can ask about at the time of purchase about although many doors come with multi point locking systems and this is an extensive security measure on its own. If you're upgrading existing French doors and you're a confident DIYer, you may be able to fit a mortice lock yourself, but it's important to ensure that the whole lock is fitted accurately into the bed which you may have to chisel out. A competent locksmith will be able to do this with ease and it might be worthwhile getting one in to do this for you for your own peace of mind.

A deadbolt does not depend on a spring and hence cannot be jimmied open with a knife or other object. A double cylinder deadbolt which will lock the two doors together is the most suitable for French doors, as a key is needed from both sides of the door, thereby ensuring that a burglar cannot simply break the glass, put their hand through, and turn the door knob from the inside to enter the property. Make sure you haven't left the key in the lock though, otherwise this renders this safety precaution useless!

A five-lever mortice deadlock is the gold standard recommended by most insurance firms – check it is British Standard 3621 or European Standard EN12209.
Install a home security system. Systems equipped with motion sensors and a loud alarm go a long way to deter would-be robbers, especially when there's a visual light on your property to show that you've set the alarm. Unfortunately, many homeowners forget to inform their neighbours of the steps to take if the alarm should go off, and so the noise is often just regarded as a nuisance. Good neighbours are one of the best ways to secure your home, so make sure at least one close neighbour has your number to give you a call if the alarm goes off while you're out, and give them the number of a relative if you're going away on a holiday. If you're tech savvy, you can set up a camera system which you can monitor from your laptop or mobile while you're absent from home, but again, make sure you know how to contact the police if necessary should the worst happen.
Use the right glass. Laminated or toughened glass will ensure that the glass panels won't simply shatter when attacked with a hammer. Ask about the glass quality when considering which doors to buy. If you're inheriting doors in an older property, it is recommended you replace the doors with glazed glass panels.
Buy thick doors. While homeowners often worry about the quality of the glass in French doors, it is more likely to be the quality of the frame or lack thereof which lets them down. A thick wooden frame is the best buy, the thicker the better. If you've inherited French doors in an older house, replacement doors may be the answer, as the thickness and quality of wood in older doors may not offer the level of security you would like.
Keep track of the number of keys. If you've moved into a new house, you might want to consider changing the locks as you never know who might have keys. Once you've done this, make sure you know who has keys, and while you don't want to leave a spare key in the door itself, family members should know where they are kept so that they can easily be found if you need to exit in an emergency, such as a fire.
There are a number of further security devices available on the market which you might want to consider adding to your doors or door frames to reduce the likelihood of being burgled. Your local police should be able to offer you security advice, and it is worth checking out their website too.
In Summary
All in all however you don't need to worry about external French doors any more than you would need to worry about any windows and doors. There is nothing more unsafe about their designs but as with all doors, there's are extra precautions you can take to secure your home. Hopefully this guide has calmed your fears about French doors and by now you should be ready to start thinking about designs and sizes, and about how soon you can add the splendid elegance of these doors into your home.