Painting External French Doors
You can buy external French doors in a variety of finishes to suit your convenience. You can get them already primed and painted but you can also buy unfinished solid wood French doors that can be painted or stained to suit the rest of your house. If you've moved to a new property and inherited existing French doors that are not in the best condition, you can also revitalise them by stripping the paint and applying a new layer.
When painting external doors, it's important that you make sure you choose a paint that is designed for outdoor use. If you are repainting over an existing layer of paint, then confirm the type of paint first, and remember the following rules:
Latex based paint can be applied over oil based paint
Latex based paints can go over other latex based paints
Oil based paints can go over other oil based paint
Do not put oil based paints on top of latex
To confirm the type of paint on your door currently, soak a cloth in denatured alcohol and rub it over the paint. If some of the paint comes off onto the rag, this means the paint is latex based.
External French doors usually have large windows. Protect the glass where it meets the wood by running masking tape around the edge of the window. Paint the wood and allow the paint to dry, then run a craft knife around the edge of the wood where it meets the glass, to cut into the paint there, then peel off the masking tape. This should leave a clean finish.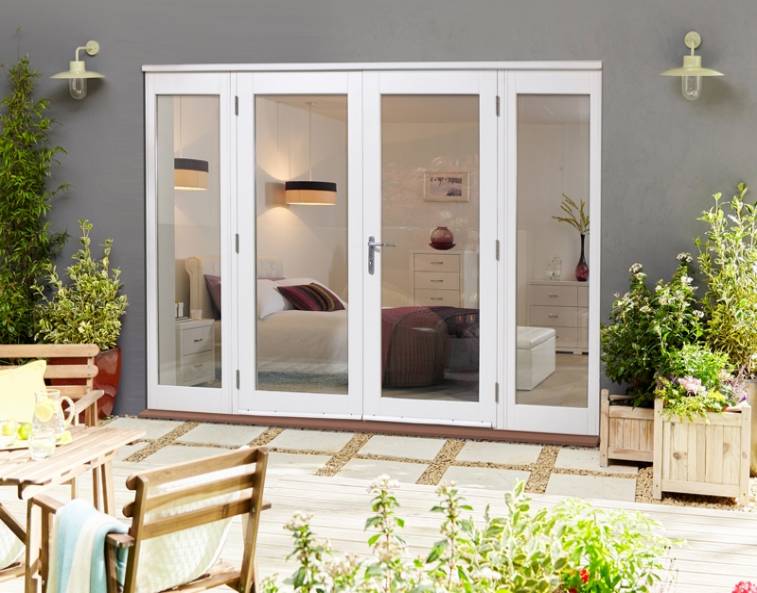 Making Your Doors More Child-Friendly
Childproofing your home is always a worrysome task for any parent so we've put together a few recommendations on how you can make sure your external French doors are completely child friendly. The common things people worry about are trapped fingers and leaving the door open and the child wandering outside. If doors are installed properly you shouldn't have to worry about them slamming shut anyway but finger guards are a useful addition that will help ensure no accidents occur. Finger guards are small devices that stop doors from slamming shut, and will protect your child from getting their fingers caught in the hinges. You will need to remember to put the guards in place, and to remove them when you want to shut the door, but they are an inexpensive device and they work very well.
External French doors are especially great in summer as many people love to leave the doors open and let the cool breeze circulate their home. It's one of the greatest benefits of having French doors, being able to enjoy them on those warmer days. Having windows and doors open when you have small children however is somewhat worrying. You can purchase extra wide baby gates however that are compatible for our French door sizes.
French Doors and Pets
Pets can be just as inquisitive as children, if not more so! Cat flaps and doggie doors can be invaluable for giving your pets freedom of movement, and can be easily added to any French door – often simply replacing one of the window panes.
One issue that pet owners often fail to think about, though, is the possibility of a pet getting their paws or tail caught in the door. One way to stop this from happening is by purchasing a door closer and adjusting it so that it still closes the door, but more slowly and less aggressively, so your pets don't get caught by surprise by a rapidly closing door.
How To Stop Your Door Swinging Shut Too Quickly
Purchasing a door closer is perhaps the easiest way of slowing down the travel speed of a door, but it isn't always necessary. If you are having issues with French doors closing too quickly, or even the opposite – feeling rather stiff, then check the hinges first.
If a door is not hanging plumb, then it may swing shut or feel difficult to open. Often, tightening the hinges or adjusting the hinge pins is all it takes to correct the issue and make the door stay open until you start pushing it shut. Alternatively, if the door is too stiff and takes a bit of force to open the door, try oiling the hinges with a little WD40 to make it easier to move. Consider fitting a door damper if your issue is that the door swings freely, but that it is too loud when it slams shut.
Blocking Out Light & Reducing Heat Loss
External French doors are great for letting light into your home but if your bedroom has double French doors that open onto a balcony, for example, when night falls you will want to block out this light. Fitting curtains or blinds is the easiest way to filter the light that your French doors let in. Curtains will also add extra insulation, keeping the heat inside your home. You may also want to consider draught excluders – these will block out any light if your curtains fall above the ground but will also help prevent heat loss.
How To Measure French doors For Curtains:
Measure the width of the glass-pane section of the French doors
Multiply this figure by 1.5 to get the desired width of each curtain panel
Purchase two panels for a set of French doors.
The extra width will give you a little extra 'gather' on the curtain rod, to give the curtains a soft, gathered appearance. If you want your curtains to look more voluminous, you can buy slightly longer ones. If you want them to look flatter when drawn, then use a shorter panel.
For the length of the panels, measure from high up above the door, to just above the floor (but well below the bottom of the glass). As a rule of thumb, it is better to hang your curtains as high as possible. Lower curtains make the room feel more cramped.
Fitting Curtains To The Doors Themselves
The above advice assumes that you are hanging the curtains above the doors, to cover the entire doorway. Another option is to fit curtains to the doors themselves, and to the sidelights.
If you are fitting curtains to the doors themselves, then you will need two curtain rods for each door and for each sidelight. Measure the width of the area you want to cover on the panel, and the length. Again, you will want the curtains to be between 1.25 or 1.5x the width of the door. Fit a rod to each end of the panel, and attach the curtain to the rod. This will give you a secure curtain that can be gathered open when required, but offers privacy and light filtering when it is closed.
Door Knobs and Door Handles
The choice between door knobs and door handles is, for the most part, a personal one. Most external French doors have handles with one door being the 'master' locking door anhe top and bottom of the door, and the handles are just for show.
You may opt for ornate door handles that match your interd one having a dumb handle. There are some designs where the locks are at tior decor, or large, easy to operate doorknobs. Alternatively, you may feel that it makes more sense to opt for childproof knobs or handles – especially if you have adventurous children that are just getting old enough to be able to climb and operate handles set at the standard adult height.
It's worth spending a little extra on high quality handles for external doors, as they will get a lot of use, and you want something that can be used with a robust lock.
Privacy and External French Doors
Usually, French doors have large glass panels, but you may decide that these are too big and that they not only let through too much light, but that they are irritating from a privacy perspective too. If you don't want people to be able to see into your property for security or privacy reasons, then you could use net curtains or, alternatively, opt for a different kind of glass.
Beaded, tinted or frosted glass can help to improve your privacy while still allowing you to enjoy most of the benefits of French doors. Of course, curtains are the best option if you want freedom and the ability to change the feel of your porch or entryway depending on the time of day or your mood at the time. With curtains, you can pull them back to let light in when you are at home, and then draw the curtains when privacy is desired.
Patio doors with frosted glass let through some light, but the light is softer, and the view is obscured. Beaded glass has a similar impact, but the light is not filtered in the same way. Another option is to get one-way glass, that allows you to see out, but makes it harder for other people to see in.
As well as learning to live with your external french doors, we have a helpful guide on how to childproof internal french doors.
Now you know what to expect with your new external doors, you can view our full range of external doors and learn how to install external french doors yourself. If you have any questions about any of our products, get in touch with our friendly customer service team who will be happy to help.
In Summary