Where to use interior French doors?
Internal French doors can be installed in pretty much any space that you can find room for them – provided that there's sufficient space on one side for the doors to swing open. They're a fantastic way of adjoining a dining area with a kitchen, for instance. Prop the doors open and you'll be able to easily move between the two when you're hosting a dinner party, or if you have the family around for a Sunday roast.
Instead of jugging multiple plates and trying to carry everything from one room to the next, internal French doors offer the width and grandeur that will make hosting a little easier. You might just as easily adjoin the kitchen and living room – effectively creating a single larger area. If you have an open plan area and have to combine the living room with the kitchen, you can separate the areas creating a more enjoyable space that encompasses the homely feeling.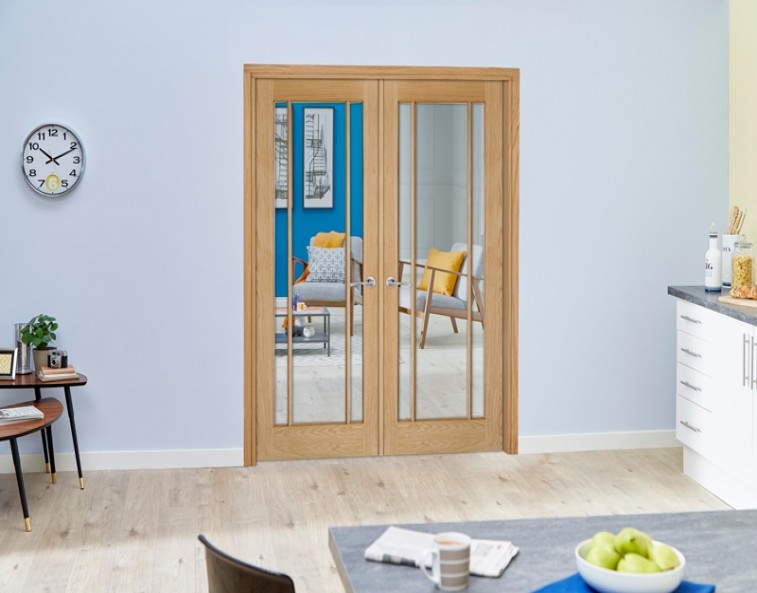 If you've got an ensuite bathroom attached to a bedroom, on the other hand, a French door can form a grand-looking portal between the two. Naturally, this is an area of the home in which you'll want to keep things private – and so frosted glass on the doors is a must. We'll discuss your glass options shortly.
A study, home studio or conservatory might equally benefit from a set of French doors. Natural light can play a vital role in stimulating creative thinking and helping one to feel good in a space – and if you're working from home, this quality is essential. If you're thinking of adjoining your home with a conservatory, then you'll need to investigate the building regulations – depending on the insulating performance and ruggedness of the conservatory, you might be required to opt for an exterior-quality set of doors.
You might also consider using a set of internal French doors to cover up a storage space. A large sheet of glass will, naturally, allow you to see the contents of a pantry or airing cupboard before you open the door. If you've got a walk-in pantry or wardrobe, you'll be able to benefit from natural light as you make your way inside. It's worth considering, however, that you'll need the room for the doors to open – they should, naturally, open outward so that you're able to reach the contents of the shelves behind them. Frosted French doors can also be a great way to hide clutter.
We all have those areas within our homes where we store the things we are not ready to get rid of - even if you've gave way to the dvd players and ipads you never know when you might need that dusty old video player or that hard drive that no longer works. Frosted interior French doors allow you to hide away those untidy secrets, the doors are stylish options that will fool guests into thinking there's nothing but tidiness behind the glass. The width of French doors could also prove useful for storage compartments. It's not uncommon for us to move old furniture into the attic or basement and getting it through a single door frame can prove difficult. French doors give you the extra space you warrant for reorganising your home.
French doors can also help be used in groups. In a hallway, you might install them on opposite sides, facing one another. This helps to amplify their effect, as you'll have space coming from two separate directions simultaneously. Moreover, if you're in one room, you might be able to see all the way through a second and into a third. You might equally arrange the doors in a row, so that they cover the entire length of one wall.
Of course, the larger the property in question, the more room you'll have to install additional doors. If there's a corner in the room, you might extend the arrangement around it, and thereby create a stunning look. This is especially attractive in adjoined kitchen and living areas, where you might use a whole series of outward-opening French doors to complete the look.
What sorts of material are available?
French doors come in a range of materials, but three broad categories emerge. They are wood, aluminium and uPVC. Each has their merits and drawbacks, but hardwoods like Oak are undoubtedly the most popular for interior French doors. Let's examine the three:
Wooden French Doors
Wooden french doors combine fantastic looks, durability and thermal performance. You'll be able to finish a wooden door to tailor it to your precise taste, and to the surrounding décor. A lick of paint will help it stand apart – but for most, a semi-transparent wood stain will make the best fit. It'll protect the wood against moisture and scratches, and emphasise the natural quality of the grain.
There are several different sorts of woods to choose from and each type has their own individual merits. A hardwood, like oak, is a classic choice because of its sturdiness and excellent quality – but a softwood like pine might offer many of the same qualities for a smaller price.
Whichever timber you choose, you'll need to occasionally perform a bit of maintenance, in the form of cleaning, sanding and re-finishing, in order the get the best from the door. Timber can also be drilled into and otherwise modified – and thus you'll be able to install locks and other hardware rather easily.
To avoid warping, internal French doors tend to be made using an engineered core, with a thin layer of timber on the top. This allows the door to be made more strongly and cheaply, and it also helps to guard against the warping effect which can result when timber is exposed to excess heat and moisture.#
Aluminium
Aluminium is the most expensive of the three materials. It's extremely strong and lightweight, which means that doors made from it can have very thin frames. This is advantageous in that it allows windows to be made bigger, which in turn allows more light to pass from one room to another. Besides the cost of aluminium, it also tends to look a little more sterile than timber – and for this reason it's only used in certain sorts of interior. Due to the qualities of aluminium French doors they tend to be reserved for your exterior doors.
uPVC
uPVC doors are an inexpensive alternative to the two varieties we've already mentioned. However, there are compromises made in certain areas. When it comes to looks and strength, they they don't tend to compare to their timber or metal counterparts. Moreover, they cannot be modified or otherwise customised to accommodate locks and different colour schemes, and they tend to lead shorter lives. uPVC doors are a great budget conscious alternative, they are often simple in design but you'll most often find that uPVC French doors are used externally rather than internally.
What about glazing?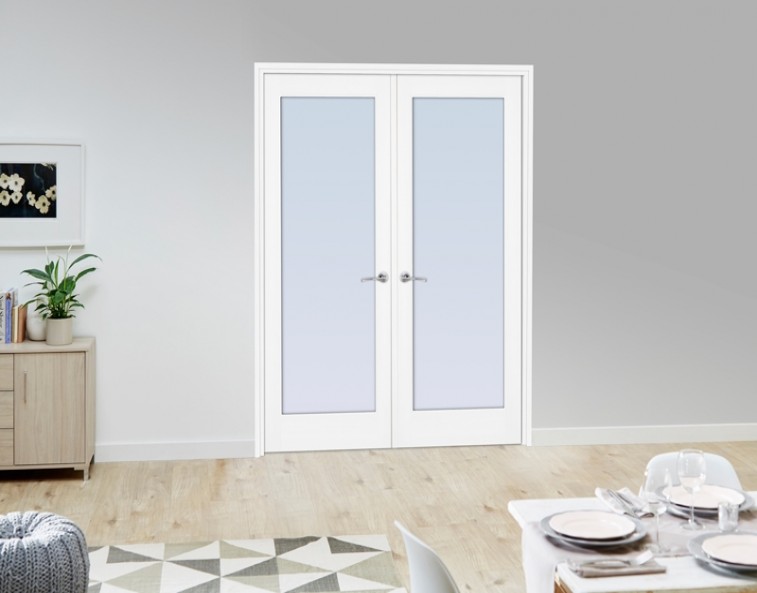 Of course, the cardinal virtue of a French door is that it comes with glass panels that allow light to pass from one space to another. These glass panels come in a range of different styles – you might opt for three vertical windows running down each door, in the 'Aston' style, or four horizontal rectangles, or even a single large window that covers the entire door. Your choice will depend on your personal preference, and surrounding décor. Whichever style option you prefer is it worth checking the glass panels in your internal French doors are double glazed. While double glazing is perhaps not as important for interior doors, as it would be for your external patio doors, you will be grateful on those cold winter evenings for the better quality when you vamp up the heating in the hope of keeping your rooms warm.
If you are considering installing internal French doors in a place where privacy is important – a bathroom, for instance then you might want to consider frosted glass. Frosted glass uses tiny imperfections in the surface to diffuse light, making it impossible to see things on the other side (but while still allowing light to pass through).
This effect can be achieved in several ways, you can do it yourself at home after your doors have already been fitted and you later decide you would prefer to make the room more intimate, or you can purchase your French doors already frosted, saving you a lot of time and effort. If you opt for the DIY option, there are spray-on frostings which you can apply at home with the help of some masking tape. Alternatively, you might achieve the same effect by blasting the glass with tiny particles of high-velocity grit. The latter method usually takes place at factory level, making it a more permanent solution, while the former offers greater flexibility, allowing you to first install the door, and then add frosting later on.
Once you've chosen your internal french door, we have a handy guide on how to install internal French doors. View our full range of internal French doors to find the right one for your home. If you have any questions, get in touch with our friendly customer service team who will be happy to help.
In Summary
French doors make a great addition to the modern home – but they needn't be restricted to adjoining the home with the patio. Internal French doors are a popular and versatile option for rooms within your home. Positioned in the bedroom, bathroom, study or pantry, they'll help to spread light around your home, and really help to boost that all-important sense of space.