Choosing the best location for your interior French doors
Before even ordering your internal French doors, you'll want to carefully consider where you're going to install them. This will be determined by several factors. Firstly, you'll want to think about whether the internal doors will have room to open fully while still allowing foot traffic to move around them. Then it's worth considering whether the room in question will benefit from a set of French doors; living rooms make popular candidates, but an en-suite bathroom with a set of French doors attached might make an impact on your bedroom, too.
Obviously, it's a good idea to consider how your doors will look from the other side, too – as they will, by definition, have an impact on two rooms. If you're installing French doors into a bathroom, or some other location where privacy is important, then you'll want to opt for frosted glass. You should consider which way the doors will open and how this will affect both rooms. You'll also need to consider whether the double doors you have chosen are rebated, which will provide a neater and more secure finish but will only allow the doors to open one way.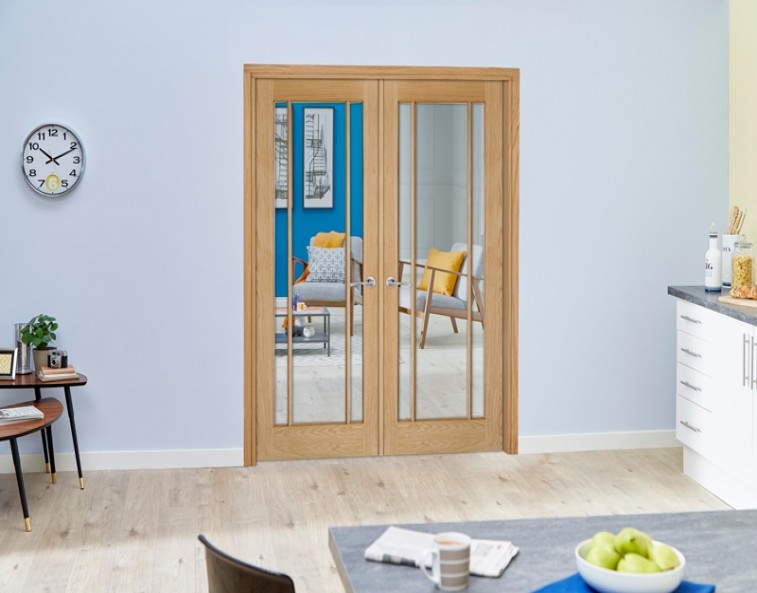 Creating an opening for internal French doors
If you're looking to fashion a new opening in your wall, then you'll need to first conduct a little investigation. Is the wall load-bearing? Are there any wires or pipes running through it? Few of us want to begin knocking a hole in the wall only to have the ceiling fall on our heads. Similarly, few of us want to smash through a wall into a mains electrical cable. Re-routing wires and pipes is a tricky job, and so enlisting the aid of a professional tradesman is almost obligatory.
If you'd prefer to proceed alone, you'll need to use cripple studs and temporary props to hold the ceiling aloft until you've got things done. The former are wooden blocks, which must be placed at the top of the frame while it's still under construction. The latter are metal posts which act as temporary pillars during construction.
For doors smaller than around three-feet wide, you won't necessarily need to use such devices. However, all French doors are necessarily larger than this. Another thing you'll need is a header – which will sit at the top of the opening and provide the necessary support for the structures overhead. This is most often made from metal or concrete.
If you've already got an opening ready for your door pair, then you won't need to worry about any of this – you'll instead be able to get straight on with the far more straightforward business of installing the door itself.
Installing the door frame
If you're replacing an existing door pair, then the first point of business is to remove the old frame. You might already have done this in order to measure the opening, but if you haven't you'll need to work your way around the exterior with a prybar, lifting the trim away from the wall carefully.
Next, you'll want to measure the opening to ensure that it's square. This is a step that you might be tempted to skip – particularly if you've already done it. But you'll regret not spending a little bit more care to get things right now if the door doesn't fit. Measure each side with a spirit level before measuring both the width and height in three places: the centre and either side (left and right or top and bottom). If there's a discrepancy of more than an inch or so, you'll need to compensate with the help of shims.
Having done this, you're ready to get the frame into place. Hold it securely using shims before screwing it into position. Double-check that everything is properly straight after you've done so. You should now be ready to install the double doors themselves.
Installing the doors
The French doors themselves won't come with hinges and door handles, and so you'll need to purchase them separately. Your choice of hinge and handle will depend largely on your personal preference, and the colour of the internal door pair itself. The doors don't usually come with the fittings to allow you to match your new doors with your existing door handles used around your home. When looking for hinges it is important to consider that heavier doors, naturally, will require stronger hinges with more holes for screws.
Handles should be selected based on the location and intended function of the door. If you'd like to ensure security or privacy, a lock might be necessary. This is not usually a common worry for interior doors but it is something you may want to consider. If you'd prefer an American aesthetic, you might opt for doorknobs over lever-style handles. In every other sense, the differences are purely cosmetic.
Once you've assembled the hardware, you'll be able to get the door pair installed. It's best to solicit the aid of a friend for this task, as you don't want the door to fall over while you're securing it – if it falls over, it might get damaged so please take caution if you decide to fit the doors yourself. Screw the hinges into position and test the door lightly. If it scrapes against the floor, then the frame isn't straight and you will have to go back. If you've been careful, on the other hand, this probably won't be a concern. Finally, you'll want to install the hardware.
Installing the fittings
Attaching handles and bolts to your door is quite straightforward. French door handles work in pairs – with one being the 'active' handle, containing the locking mechanism itself, and the other being a 'dummy' handle, which doesn't actually move the latch.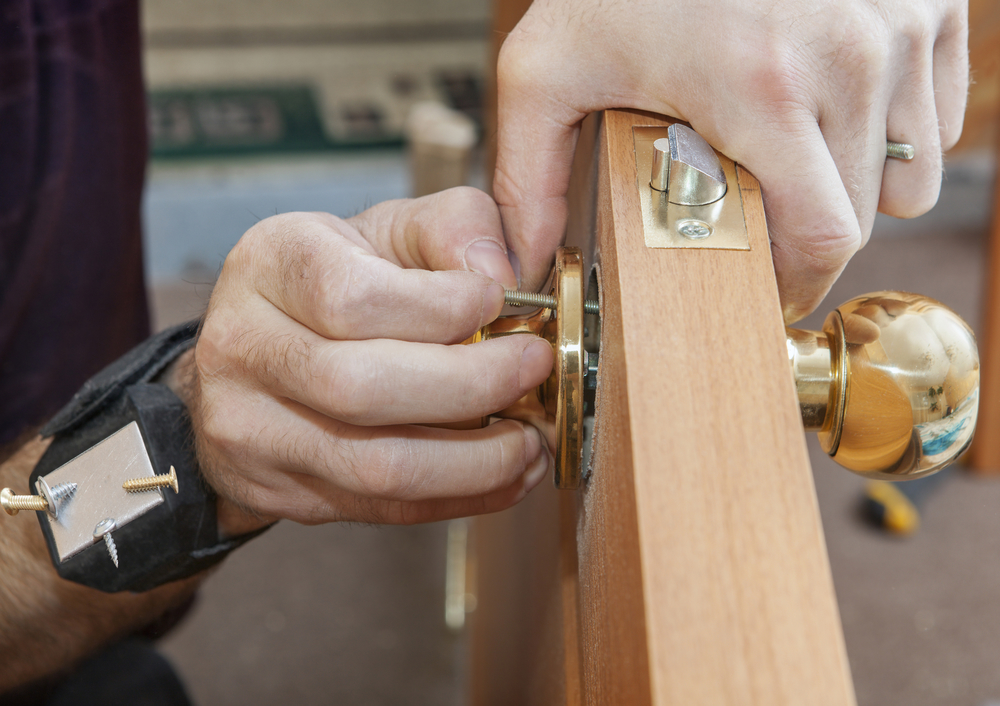 You'll first need to determine which of the handles will be the active one. You'll find the lock cylinder pin inside – the metal protrusion which passes through the door. Turn it clockwise if you intend the handle to be on the left, and anti-clockwise if it's going to be on the right.
Next, drill the holes into which you'll screw the handle. Since this is a new door, you'll have a blank slate to work with. A set of handles should come with a template to make this part relatively straightforward – select a drill bit to match the outline, and then bore through the door. You'll need to make room for the lock mechanism, the handle and the latch on the edge of the door.
The precise order of assembly will vary according to the sort of handle you've bought. Manufacturers will provide detailed instructions for this stage, which can be quite fiddly. Once the lock itself is in place, the remainder of the task tends to be quite self-explanatory – attach the handles – but test them before screwing them into place. Don't forget the washers when assembling the handle – they'll ensure that all of the parts are properly aligned, and help guard against wear-and-tear in the long-term.
Once the active handle has been installed, all that's left is to get the dummy one into position, too. This should be done in much the same way, except you won't need to worry about the locking mechanism.
We recommend you fit the handles to the door pair before installing them, as commonly this is easier to do.
In Summary
Installing a set of internal French doors is a relatively simple job, provided that you're careful, and enlist the aid of a willing friend. If you need to actually create a hole for the door to go into, however, then things get more complicated. If you're unsure of how to proceed, then don't hesitate to seek the services of a local tradesperson.
Now that you know how to fit interior french doors, check out our range of interior French doors to find the perfect one for your home. If you're not sure if a french door is right for your home, check out our article on Bifold doors Vs French doors to see what benefits both styles bring.
Our team is always more than happy to answer any questions as well so get in touch with any queries.