Preparations
French doors can be bought pre-hung, or they can be installed into a frame that's built from scratch for the aperture you have in mind. Whichever approach you take, you'll need to ensure that you first measure the opening to ensure that the doors will fit.
Since interior French doors come in standard sizes of either five or six-feet wide, you might find that this task is far easier than it would be in the case of a folding door installation. You'll want to leave a little bit of room for manoeuvre around the edges of the frame; this gap can be padded to compensate for a framing that isn't quite as square as you'd like it to be. Inserting shims, after all, is a lot easier than trimming the frame down when it doesn't quite fit.
Creating a new doorway
If you're thinking of adding an opening to your home where none already exists, then you'll need to account for structural considerations. The header must be able to support the weight overhead, and you'll need to be careful to avoid wires and pipes running through the wall. Check for electrical outlets or switches near to the location. If there are, then you'll need to have them altered and moved around. While this is certainly possible, it will involve far more major surgery than simply knocking a hole through the wall.
Naturally, you'll want to measure both sides of the wall with a tape measure. Be sure that the pencil markings you're going to make align with their counterparts on the other side of the brickwork. If you're sure you're not going to encounter any plumbing or wires, you might do this by drilling a hole through some arbitrary point in your doorway and measuring from that. You might also try using some fixed part of the room as a point of reference, consulting the plans for the building as you do so.
This is a task that might go beyond the abilities of most homeowners – after all, you don't want to risk cutting through an exposed wire, or having the ceiling collapse overhead. For this reason, professional guidance is worthwhile. Be sure, however, that you're bringing in a reputable tradesperson to do the job.
Before getting started, it's also worth pondering whether your doors will have room to open outward into the space on either side, and still leave you able to freely move around and close them. If not, another design might be more appropriate.
If you've already got an opening ready, then this isn't something you'll need to expend too much worry over: you can instead get to the business of measuring the gap.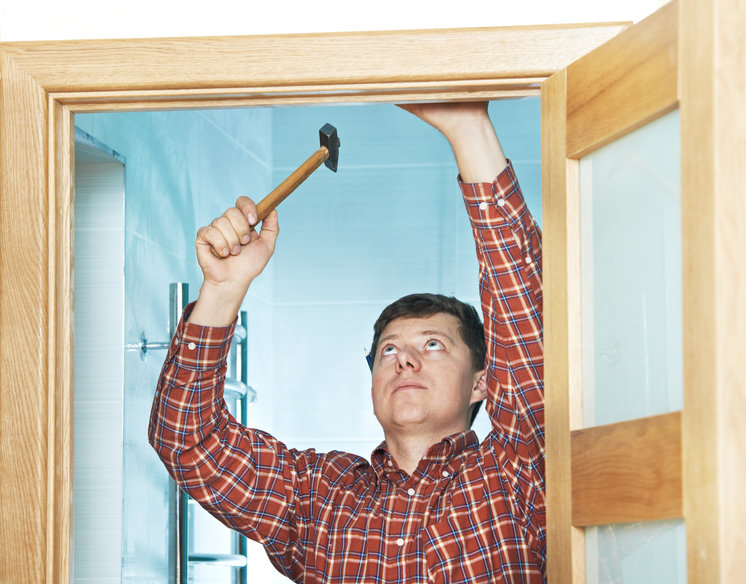 Clean the opening
Before you measure the opening, you'll want to get rid of the trim from the previous door (if there was one). Do this with a pry bar: work your way carefully around the edge. You don't need to worry too much about damaging the trim you're removing, but you'll want to leave the frame underneath intact. In order to get an accurate measurement, the framing studs will need to be exposed.
Having gotten rid of the trim, you'll want to lift the threshold from the bottom of the frame, if there is one. Remove the anchoring screws and tear it away with your pry-bar. With that done, you'll be able to get started with the actual measuring.
Measure the opening
First, we'll need to be sure that the frame is square and true. Do this using a spirit level. Even small variances can have severe consequences when it comes to actually installing the door, and so it's important to correct for even slight inconsistencies at this point.
With that done, you'll need to measure the height and width of the door itself. Measure across the top, middle and bottom of the door. If the door itself is straight, there should be minimal discrepancy between these three measurements. If it's more than an inch or so, then you'll need to make some adjustments. Use the smallest of the three measurements as a basis for selecting your door.
Next, repeat the same procedure for the height of the door; measure all the way from the floor to the bottom of the header on both sides of the door, and in the middle, too. Again, a discrepancy of more than an inch or so will indicate that further adjustments may be necessary.
What about the studs?
To affix the frame to the wall, you'll need to use framing studs. These have different nominal widths: There are nominally four-inch studs (which are actually closer to 3½ inches) and six-inch studs (which are actually closer to 5½ inches). Select your studs according to the thickness of your wall.
Now that you know how to measure for your french door, check out our full range of interior french doors as well as our handy guide on how to install internal French doors. If you have any questions, get in touch with our friendly customer service team who will be happy to help.
In Summary
Measuring and installing a set of French doors is a task that requires care and patience. You'll regret doing things in a hurry if you discover your doors don't fit when trying to install. Instead take your time taking measurements and make sure you write them down. We also recommend you measure twice to make sure your numbers add up.
Provided it's done slowly and carefully, measuring for a French door is a task that doesn't require any special expertise. With that said, if you don't feel comfortable doing the job yourself (or you simply lack the time or inclination), then drafting in outside help might be worth the expense! Now, lets get measuring for some patio doors too...