How To Choose Internal Bifold Doors
Below you will find information on the different size and measurements of bifold doors.
Picking The Right Size Internal Bifold Door
As with any other interior door, the standard height of a bi-fold door is 2074mm. The doors are designed so that you can trim them down to 2040mm to fit most openings. If you need something taller or shorter than those dimensions then you will need to get a door specifically designed for your opening.
You have more flexibility with the width of the door. You'll find that it's quite easy to buy doors starting from 1671mm wide, and that run all the way up to 4652mm wide. Smaller, and wider, options are usually easy to find too. Usually, each individual panel can be between 700mm and 1000mm wide, and you can choose the sizes and configurations of door to suit your opening – so an opening that is 2800mm wide could have up to four 700mm doors, or two 1000mm and one 800mm, or some other configuration, depending on your preferences.
It's a good idea to talk to the door manufacturer to get some advice about the configuration of the doors. The size of each panel, the position of the handles, and the number of panels can all make a difference to how easy the door is to open, and how smooth the pull is.
If you want custom sized bifold doors, then you can get them made. You will need to supply the manufacturer with the required size of the door. Note that this is not the size of the rough opening, but the size of the opening once the frame is in place. Make sure that the opening is plumb, and take several measurements across and down, so that you get an accurate picture of the size of the door.
Supply the biggest measurements – you can always plane down the door to make it fit (as long as the difference is just a few mm), but you can't make a door that is too small any bigger.
Thickness and Panel Size
Internal bifolding doors come in a range of thicknesses. You can get slimline doors that have a sight-line of just 132mm, or continental style doors with 140mm sight lines. There are thicker doors that are solid wood or that are slatted. The profile you choose will depend on your budget, the material the doors are made from, and how much you care about noise-insulation, etc.
There is no hard limit on the size of a bifold door – you can get them as big as 6250mm wide if they are made out of aluminium, or even bigger with mechanical joins. However, bigger doors will be heavier.
Usually, it's not recommended to get panels that will end up weighing more than 80-100kg, because they are simply unmanageable. Even with good, smooth runners moving a heavy door can be unpleasant. It's usually a better option to go for smaller panels and more folds.
Avoid going too small with the panels, though – anything smaller than 700mm, and you will find that the panels start to bind when they fold, which makes them hard to operate.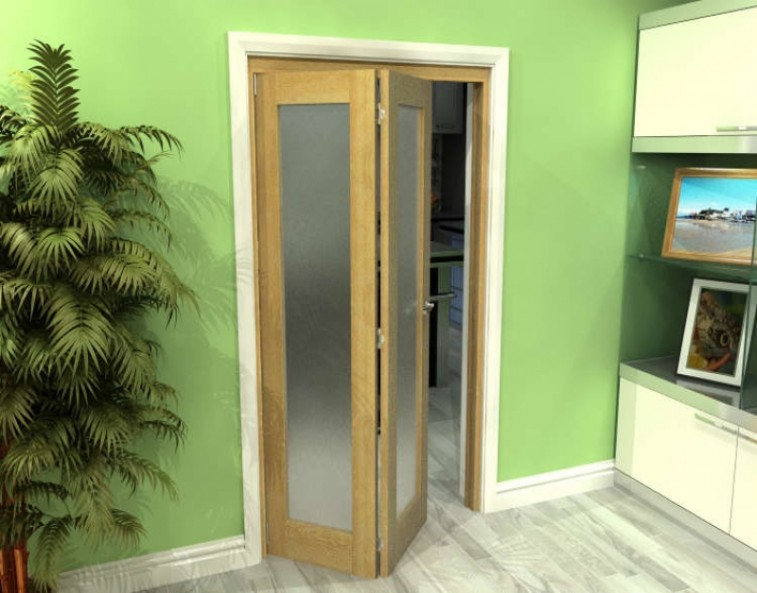 Installing Internal Bifold Doors
It is quite easy to install an interior bifold door; certainly far easier than fitting an external door, where security is a greater concern. You can fit an internal bi-fold door in an hour, and it doesn't require a lot of specialist tools – just a cordless drill, a ladder, and a hammer. Even fitting the runners is quite a simple process as long as you work slowly and systematically. We have a couple of guides on how to install them on carpet and laminate flooring.
Once the door is in place, all you need to do is keep it clean and well maintained. Take some time to vacuum clean the runners periodically, so that you don't have to worry about debris, dust or dirt clogging them and making the door hard to open.
You can find a full guide on how to install bifold doors here.
We also have a handy guide on Bifold doors vs French doors to help you decide which will best suit your home.
View our full range of internal bifold doors and if you have any queries, get in touch with a member of our team who'll be happy to help.
In Summary
If you need any more assistance with your internal bifold doors, don't hesitate to get in touch. We also have selections of internal French doors and French folding doors if you want to shop around. Our full range of bifold doors is also not to be missed. Check them out and see if you can't grab yourself a deal.