What is the Difference Between French Doors & Patio Doors?
It's vital that you understand the differences between French and patio doors when looking to make a purchase for your house; after all, they are a large investment when compared to smaller items and decorations.
Traditionally, the words 'patio doors' refer to sliding doors, but this has changed over time to cover a large range of different doors that open either into your garden or patio area, as well as sliding open.
External French doors are actually included in this, along with bifolding, but typically when people say 'patio' doors they refer to the sliding style.
In this post we're going to compare the differences between traditional sliding patio doors and the increasingly popular French doors to help you make an informed decision when making your CLIMADOOR purchase.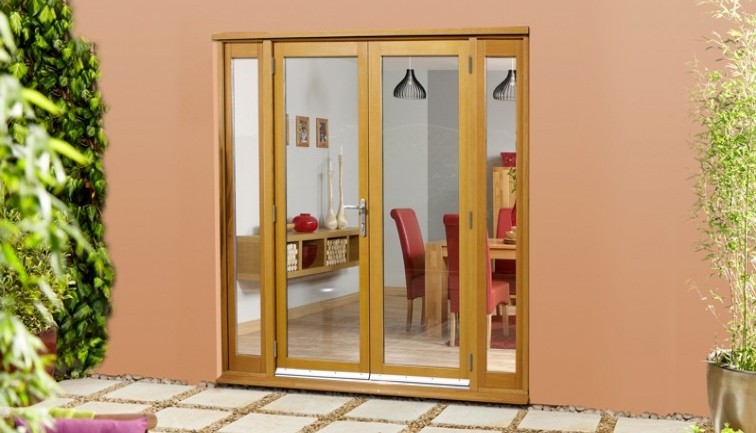 Design
French Patio Doors
Typically double hinged, French patio doors fold and open outwards, giving you full access to the gap or opening of the frame with which they are installed.
Being able to access the full opening of the doors is great in smaller spaces or when opening into smaller gardens; where space internally or externally is really important.
However, the maximum size of a French 'leaf' – the panel of each door – is approximately 900m, meaning the maximum size you can purchase is 1800mm. If you're looking to cover a large opening, French doors probably won't be an option.
Sliding Patio Doors
Sliding patio doors give you the ability of much wider opening spaces, with designs capable of reaching widths of up to 4200mm, from a starting width of around 1600mm.
Because of the sliding design, they are extremely beneficial when space is restricted for openings either inside or outside of the house, as they don't open towards walls.
The downside to sliding patio doors is that only 50% of the space can be open at any one time, meaning half of the door will be blocking the space at all times – minimum.
Sliding doors have actually decreased in popularity due to the fact that only 50% will be open at any one time, and newer bifolding styles have entered the market which give the benefits of both French doors – opening full width – and the large area size of sliding patio doors.
It's this reason that means we only offer French and bifolding external patio doors at CLIMADOOR, rather than outdated sliding doors.
Cost
The cost of course varies depending on the style and size you purchase, but sliding doors are typically slightly cheaper than French doors when larger than 1800mm, due to the hardware, manufacturing methods and the mechanisms used being slightly more cost effective.
Security
Every door that you purchase should come with some security features, but you need to make sure you look out for the following:
Multipoint Locks
These are essential; preventing doors from being unlocked or forced open using 3 or 5 point locks that joint the door and frame when closed.
Opening Restrictors
All doors should be supplied with opening restrictors, but if not we'd definitely advise getting some. These prevent doors from being blown open in the wind – typically with French doors that fold.
Cover Splines
French doors should also be supplied with cover splines to cover the gap between the doors where they meet. This is the weakest area on the door and needs extra reinforcement so you can be confident of security.
Anti-Bump Cylinder
All lock barrels on the doors should be provided with anti-bump cylinders, which will prevent the barrels from being forced through and offer extra security.
Thermal Performance
When it comes to purchasing doors, also consider the prices you could potentially save on your energy bills.
Remember to check the U value on each door – the lower the better – and you need to make sure that your doors comply with Part L of the Building Regulations, which looks at double glazing; ensure you have toughened glass units that comply with BSE 12600 and 12150. These are a must for both safety and performance.
---
As well as our external french doors, we have a wide range of external bifold doors so you can find the perfect door for your patio.
Once you have found the right door, we have handy guides on how to fit external french doors and external bifold doors. It's easier than you may imagine!
If you still have any queries, our friendly team is always available so get in contact today!