At a lofty 830m high, the Burj Khalifa is the tallest building in the world. It cost $1.5 billion to build and took almost six years to finish, which is almost as long as it took us to recreate these magnificent pieces of architecture as pixel art (I joke, but seriously, it took a long time!).
Thankfully, not all the world's iconic buildings are as complex as the Burj Khalifa! They come in a variety of shapes and sizes and we hoped to capture, and compare, them in a new and interesting way.
Sure, illustrations or photos might have made our lives easier, but in the end we opted for a pixel art approach, at a scale of 1 pixel : 1 metre squared. And believe us when we say, each pixel felt like reconstructing the original brick-by-brick!
Even a low-detail process like pixel art can capture the essence of each building, no matter the size. The huge 830 x 150 pixel Burj Khalifa is impressive, but there's beauty in the smaller buildings too. In fact, recreating all these structures gave us an opportunity to study their form in intimate detail.
Take some time to admire the pixel-patterning on the domes of Saint Basil's, or bask in the digital sunlight drenching the tiny Taj Mahal.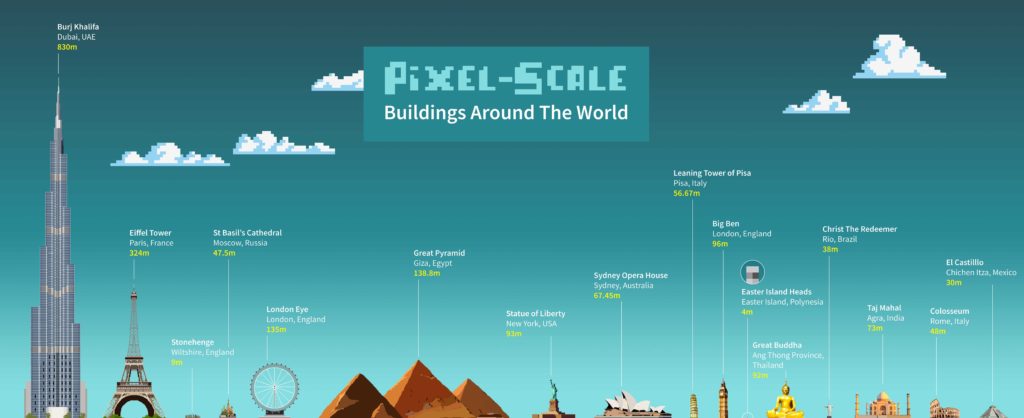 For greater detail simply hover over the image on desktop, or tap and hold to use the zoom tool on mobile and tablet. Please enjoy and share!
Want to download them as a resource for your website or next design project? No problem, download the set here (please include attribution to Climadoor).